On Saturday morning,  I reached for the sweatpants instead of my comfy knit shorts for my lounging wear. Though I'd prefer not to live in sweatpants, of course, it was just another sign that fall is indeed on the way. After spending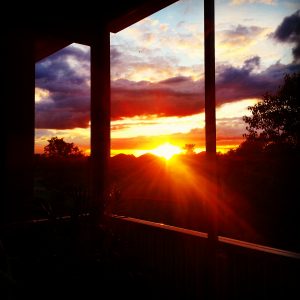 most of my years in Texas, where the seasons are either "brown" or "green", I embrace everything fall offers here in the Midwest, especially the opportunity to spend all day on the deck and open the windows!
Somehow, we sleep better with fresh air flowing through the windows than we do with air conditioning or heat.
What I'm Writing
I've continued with my 750 Words practice and have discovered when I type in the stream-of-consciousness way, I can write those 750 words in about 12 minutes. Otherwise…goodness, it's been another challenging week when it comes to words on paper. 'Nuff Said 😉
What's Happening with Work
A short work week for me, as JB was off on Monday and Tuesday. I coached on Wednesday and Thursday. Edited Are Your Desires Always Last On The List? which I had written two weeks ago and as most blog posts do when I let them sit for more than a day, it morphed a bit. The newsletter was completed on Friday early in the day and I called it a WEEK.
What I'm Reading
I finally finished An Altar in the World . It was a good choice for a spiritual morning read…but to be honest, I liked the first half of the book better than the last.  The beginning of the book was deeply spiritual and I was able to really connect, however, the end became a bit more preachy, which doesn't work for me in the same way. I like uplifting, loving, and connecting when it comes to my spirituality and in many ways I was on the same page with Taylor, especially that the entire world around us is ripe for sacred connection. But show me and tell me stories….
I indulged in lots of cozy mysteries again this week. It wasn't on my plan, yet when the library loads me up, who am I to say "NO"? 😉
I read the most recent Juliet Blackwell  Lily Ivory book, Spellcasting in Silk. Strong women, great cast of supporting characters, a lovable familiar and lots of info on Vintage Clothes.
I really love Ellery Adams newest series: "Book Retreat Mysteries" series. Book two, Murder in the Paperback Parlor was a delicious follow up to the first book. Likable and humorous cast of folks and a relatable heroine, Jane Steward. That the series is about all things books doesn't hurt my enjoyment, either.
I began reading the Death of Santini  finally. It's a little slow going as the violence sends me back to Cozy Reads. Book club is on the 22nd, so I need to get cracking this week!
I haven't settled on my next morning read, and that has shifted my morning routines and not necessarily in a good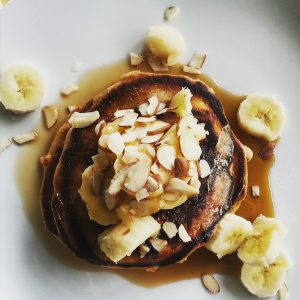 way. I need to address that this week.
What We're Eating
It's been a good food week overall.  JB asked me Saturday if I could please make pancakes, something I haven't done in over a year, so I said YES and proceeded to make the most perfect weekend breakfast ever. I made banana pancakes with a rough take on a recipe from Clinton Street Bakery. I alter it, though, by replacing half the flour with a whole wheat pastry flour. I usually like to make it with buttermilk instead of regular milk, but I didn't have any. So, it was a down and dirty and messy project that was well worth it.
Of course, I made too many, but did you know you can freeze pancakes? Yep, just wrap 'em in waxed paper and put in a freezer bag. Then, warm 'em up by placing them in the oven (or even the toaster if you haven't put any fruit in them). I made banana pancakes, which will be amazing with peanut butter on those leftovers.
Breakfast today was scrambled eggs, toast, and sliced of beautiful Amish tomatoes.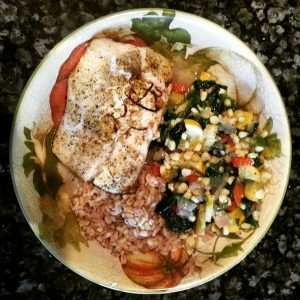 Otherwise, this was a heavy fish week when it comes to dinner. The Alaskan fishing season is drawing to a close which means no more wild fresh fish, so we are indulging. Salmon alongside little filled pastas, Salmon with blistered cherry tomatoes.
Saturday night's dinner was a pure homage to the end of summer: wild halibut served with a 5 grain mix and all the summer veggies: two kinds of onions, bell peppers, an ear of corn, a yellow zucchini and a healthy handful of spinach.
I'm beginning to long for more complex meals. The process of chopping veggies is like active meditation for me and nothing beats the act of taking raw ingredients and creating something from them that nourishes us physically and spiritually.
In an email conversation with a dear friend this week about food, I realized that cooking was the first place I reclaimed my creativity after my divorce.
What's I'm Shaking My Head At
I'm so grateful that I don't have to deal with Office Drama and Office Politics. JB was only in the office for three days this week thanks to the holiday, but there was Drama every day. While I love hearing the stories because they make such great fodder for fictional tales, I hate that he has to witness unprofessional behaviors and adults acting like middle schoolers.
He's like me in that he doesn't like conflict, so I feel bad that he's having to work in that environment. Occasionally gets dragged in for an "opinion" to the situation, and while I know he can provide wise counsel, no one wants to be a part of the drama….except those folks that love it, of course.
What's Really Floating My Boat
I started lifting weights again this week.
I had forgotten how much I love approaching my body with focus and reverence as I lift. Back in another life, I got up at 4 AM so that I could be at the gym before work and worked with a really wonderful trainer. I just hadn't found anyone here that I liked to work out with.  So, I dug into the Lift to Get Lean book by Holly Perkins and chose one of her plans (the Newbie Plan), which is to lift two days a week with a plan for 90 days.
Thanks to years of working with a really excellent trainer, I understand the basics of lifting which allowed me to choose some substitutes for exercises that required a gym.   I may not be a newbie when it comes to weight lifting,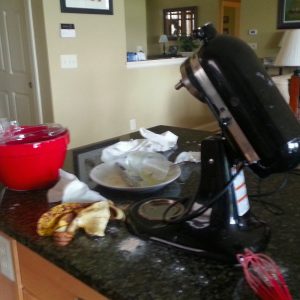 but it's been many years since I have lifted regularly!
To keep me on track, I've scheduled my workout sessions in the calendar already. Yep, appointments just like a call with a client or any other important thing.
Of course, life in general is floating my boat. Yes, I am frustrated when it comes to my writing and feeling a tad stressed out about my 4th Quarter deadlines for work.
But life is so sweet.  Messy, yes, but life is supposed to be messy. (Like this glorious after-pancake view of the kitchen)
Each day, I get to wake up next to a man that I don't just love, but like and respect. And I've never had this level of support in my life. Not as a child, not in my first marriage….
I love the little things about our life, like matching shirts and ties to his suits so he has an easier morning. I like sitting on the deck watching the golfers as they search for lost balls. I'm glad I don't have to hustle to be loved or seek some imaginary success based on the terms of others.
This is it. and IT is perfect in all it's imperfections.
Hope you have a great week.