I'm not going to lie: this week has been all about The Chair.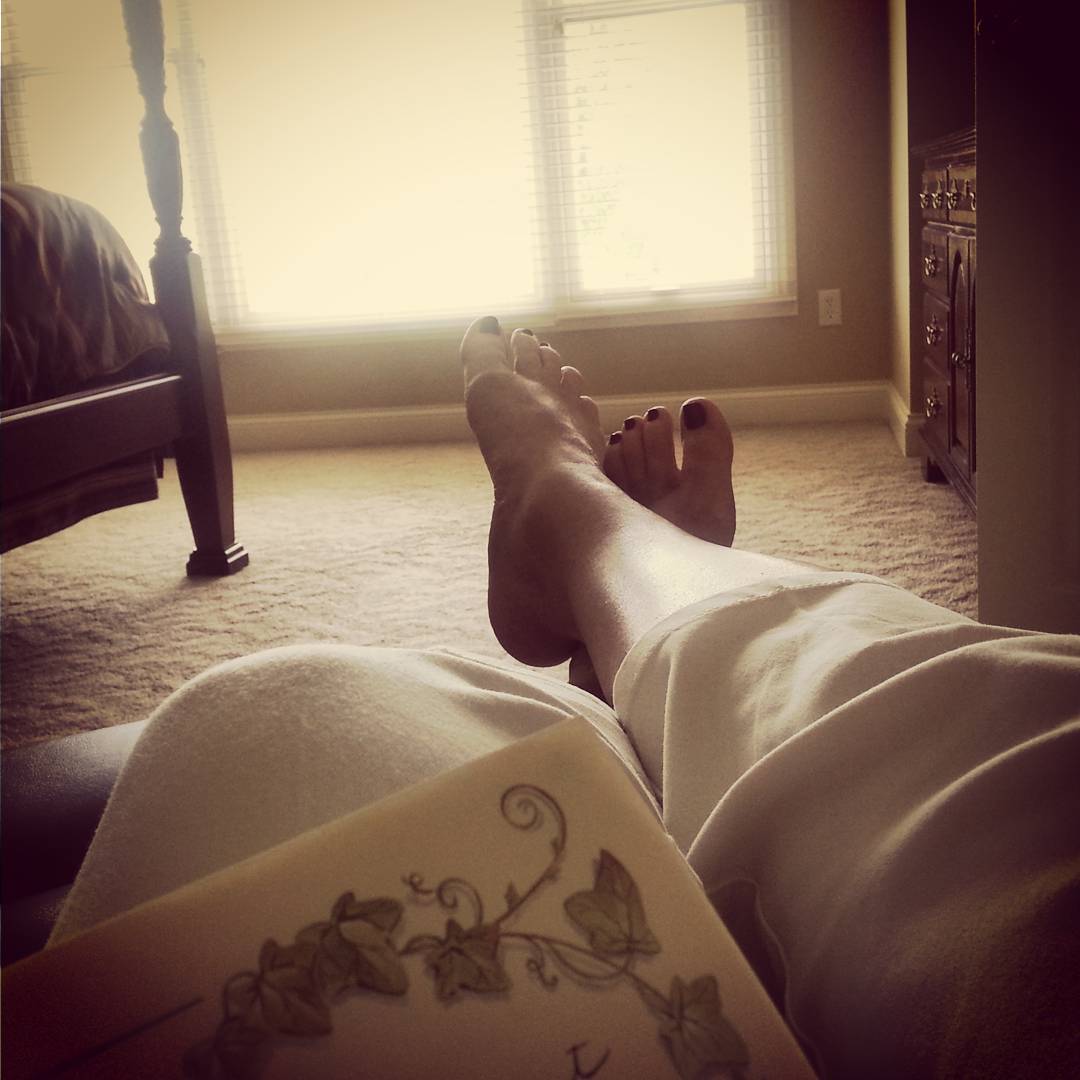 I selfishly have wanted a chair in the little corner in the bedroom for the last four years. JB tends to sleep later than me most Sundays and instead of laying in bed and having those Alice in Wonderland dreams or going downstairs to the office, I wanted a place to sit and read and journal without having to go "out" into the rest of the house.
I know, I know…but going to other parts of the house means getting dressed or being too far away to miss a morning snuggle and pillow talk.
And to be honest, on the nights when he is out of town, I really like being ensconced in the bedroom as I read before bed…we have a mostly glass front door and no blinds in the living room…and the bedroom feels safer and cozier.
We've looked on and off and finally got serious about it, so I purchased a chair last week and it arrived MONDAY.
I took JB to the airport on Tuesday morning for a quick trip to Philly, and have spent time in the chair reading, writing, journaling,dreaming  and even napping. It tis perfection.
After coming home Thursday evening, JB felt pretty awful most of Friday and a big chunk of Saturday. He was in bed Friday night around 7 PM and we slept until well after 9 AM, then he napped for a couple of hours. He's finally feeling like himself today.
What I'm Writing
It's been a challenging week in terms of writing. ALL My Buttons Are Being Pushed by this book. And, since I wasn't able to travel with JB to Philly, I spent more time reading than writing this week.
I edited the blog post later in the week than I had planned, wrote the newsletter, and then did a small round of editing on the Brain Clutter portion of the book. Beyond the blog post I wrote here, I got nothing else "new" written.
To say I am frustrated – with myself  and my writing – would be an understatement.
What's Happening with Work
Though I don't count it as "writing-writing" I did a long spell of editing on the Clearing Brain Clutter course-to-eBook project. I have a healthy rough draft of the book and will make final edits this week.
The highlight of the week, work wise, was a brown bag lunch with a group of local, self-employed women coaches. To sit down with ladies who Get What I Do. There were six of us there and we're going to shoot for getting together once a month.
This coming week the busiest week of the month coaching wise.
What I'm Reading
I'm still have one chapter of An Altar in the World to finish. I haven't settled on my next morning read, so am lingering over my highlights in this book….and saving that last chapter.
I did finish listening to Learning to Walk in the Dark this week. I loved her lyrical voice, but I am still a visual person and will be re-reading the book sometime in the future.  It isn't my next "morning read" because the material is still fresh in my mind, but I won't forget about it.   I took great comfort in the epilogue when she said in the epilogue: "Someday I would like to know what  a book is about before writing it, but so far that has not happened." That statement is a good reminder to me that even if we know what a book we are writing is about, it will still take a life of it's own and that's ok.
With John traveling, I didn't want to read anything too scary or taxing or stressful, so I read two cozy mysteries this week. Yes, it's like reading a grown-up Trixie Belden book, and that's perfectly fine with me. I finished Butter Off Dead by Leslie Budewitz which was enjoyable. Most delightful, though, was The Diva Steals a Chocolate Kiss, by Krista Davis. I love the realness of the main character, Sophie, her collection of friends, and the location: Alexandria, VA. Both of the books are Food Related mysteries, and as a both a lover of food and a writer that sometimes writes about food, I like seeing how they work the food into the story.
I finally finished Nemesis by Catherine Coulter yesterday. This is her 18th FBI book, so the characters are like old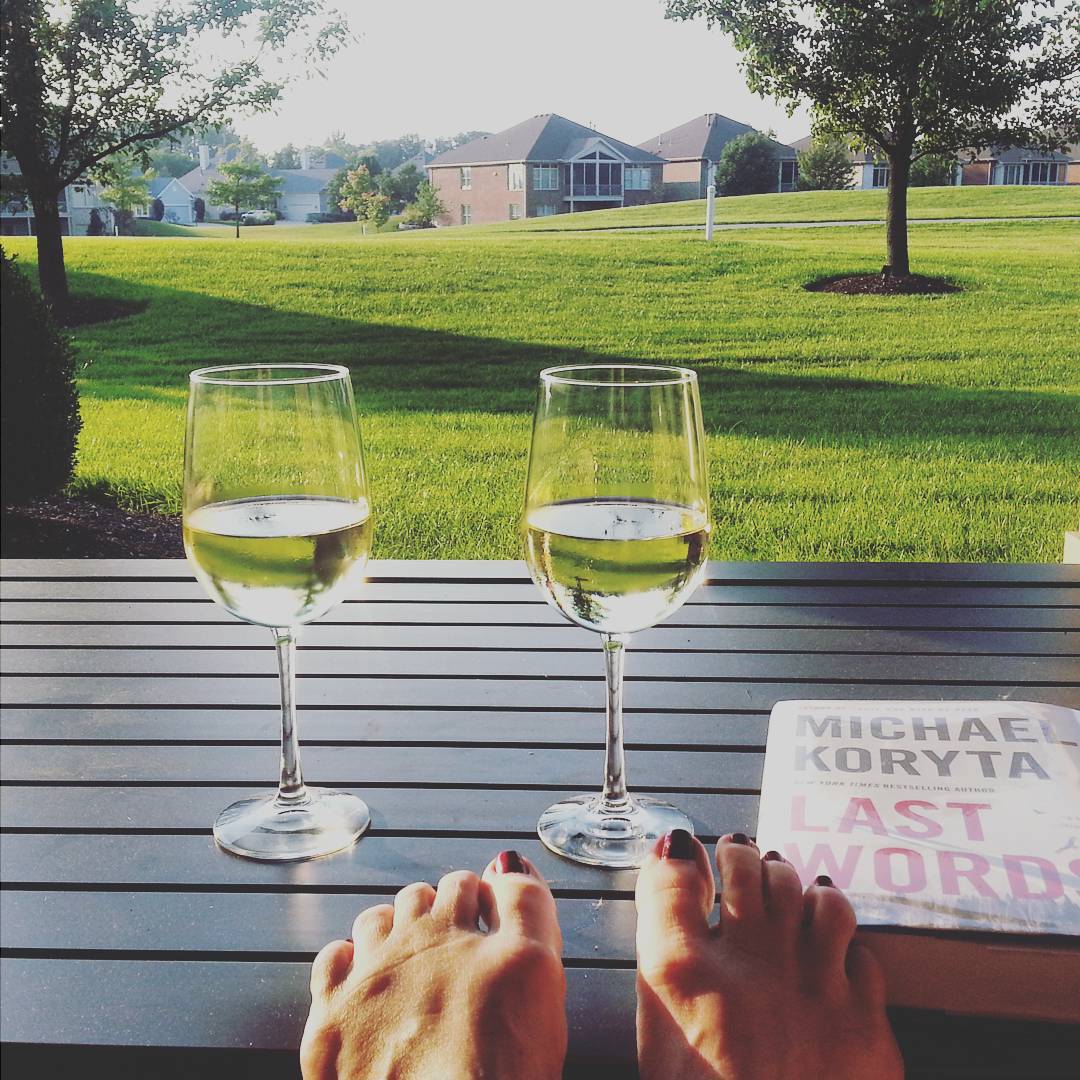 friends. I started the book earlier in the year, but then got distracted by work and had to return it to the library before I finished it. Perfect ending to the book for characters I've loved for years.
Next up for this long weekend: The Last Word by Michael Koryta. I've interviewed Michael twice and he's really a wonderful person as well as a talented writer. The first book of his I read, So Cold the River, has me sleeping with the lights on in my hotel room 😉
I didn't start the September book for our book club last week like I planned, but it's on my Kindle just waiting… The book is Death of Santini by Pat Conroy and to be honest, I didn't feel like diving into the messiness of Conroy's family this week.
What We're Eating
With JB traveling this week, and then not feeling well most of the weekend, eating has been fairly uninspired and lots of cook once, eat several times. The day I dropped him off at the airport, I went to my favorite grocery store, Dorothy Lane Market, and let the butcher cook for me: a beautiful sirloin and one ground sirloin patty. I also picked up some rotisserie chicken, too. Then, a quick visit to the deli for corn salad and some salmon patties meant lots of quick and easy, but still yummy and nutritious meals. Then,, I rounded out my shopping for the week with whole wheat buns, spinach and local Amish tomatoes.
A juicy burger with homemade mayo and a thick slice of organic sharp cheese for dinner one night; steak and corn salad for breakfast, and a couple of meals pulled together with the already cooked chicken.  Meals for one can be a challenge, or they can be easy. I chose easy this week.
When JB came home, we had salmon burgers (those deli salmon patties on wheat buns) along with fresh spinach salads. Then, on the nights he wasn't feeling well and only wanted some soup, I took the rest of the chicken and threw it in a pan…and sauteed it in olive oil along with onion, an ear of corn, and half a can of beans (tri-blend – black, red and white) and lots of spices.
The first night JB felt like eating real food, I prepared another standby: a chicken breast sauteed in olive oil and spices,simmered in some chicken stock and then topped with a container of baby spinach. I served that long with my favorite quick cooking Italian 5 Grain blend cooked in more chicken stock.
It's still too hot to really dive into the kitchen and I realize that I am more inclined to make hearty sauces, experiment with new recipes, and create lavish meals when the fall and winter weather arrives. All the heat and the abundance of local produce has me leaning more towards those rawer meals with quick proteins and raw veggies.
No more Bacon Sandwiches from Arby's, though 😉
What I Am Obsessing Over
I'm finally wrapping up my final bulb orders for fall plantings, which means I've been obsessing over my White Farm
and Jackson & Perkins catalogs this week while looking at photos from the spring. A couple of weeks ago I ordered some tulips from J&P for a front flower bed in a spot that hasn't had bulbs of any sort….and a few more to fill in empty spots in the front.
Today I made my final order from White Flower to round out my needs for daffodils and some very select tulips. Last year, the bed in the back was all yellow and white, thanks to the squirrels or chipmunks preferring red and purple bulbs for winter snacking….so I added some orange and purple tulips for the back beds…along with some shorter-growing yellow-orange tulips for the fronts of the beds. My daffodils are to fill in spots where the chipmunks have been snacking this summer.
I'm also obsessing over what to do with the daylillies. They need "dividing" this year and I sure am not in the mood to do it, but now is the time since we should have at least 6 weeks before the first frost. They are just too "thick" and are suffering.
What's Really Floating My Boat
I've had a fair number of "animal encounters" this week: dragonflies, a turkey vulture, the butterfly, bees, and a little frog. Time to dig into my favorite Animal Totems website and do some research.
I know I previously mentioned letter writing, but I can't tell you how nourishing this conscious exploration into my creative life and the creative life of a dear friend has been. It's also been an incredibly fascinating way to look at how we communicate, our need for INSTANT answers, and what happens when we have to wait for the "next chapter". To wait for answers to my questions that we could, instead, email or chat about on the phone…yet I know that this pace is forcing my focus and training me in ways I hadn't expected. After writing a letter Friday evening, I was energized to work on another writing project for the first time all week…
I hope you're having a gorgeous Sunday. JB is off work until Tuesday so I'll be a little absent around the web til Wednesday.  Happy Labor Day