I have a deep fondness for beautiful lingerie. From the time I was a little girl, I found pleasure in just seeing silky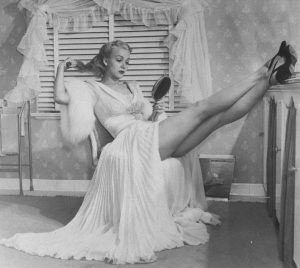 slips, lacy bras and charming nightgowns.
My mother purchased flannel pajamas for the winter and knit gowns for the summer, but I always longed for the lacy and sleek gowns with matching robes. She'd tell me that those things weren't practical, nor, were they comfortable. Lace itches and satin just doesn't wear well, she would tell me.
Instead, I got every lacy or satiny outfit I could find for my Barbie.
I was twelve when my sister got married. Of course, there was wedding dresses and fancy dresses for showers and luncheons to be purchased. They also created a elaborate lingerie trousseau with silk nightgowns and lace nightgowns with matching delicate gossamer robes. Each lingerie set was paired with complimentary slippers.
I can still see the ivory negligee and peignoir Set: long silky gown with copper colored ribbons, chiffon ivory robe, and delicate copper-colored strappy slippers with kitten heels.
I couldn't wait to get married one day so that I could finally  have beautiful and sexy lingerie!
I won't dive into the details of how my bridal experience was in no way similar to my sister's first wedding, but suffice to say there was no creation of a lingerie trousseau beyond a few things I received from a shower my coworkers threw for me….
Sexy nightgowns aside, I can't talk about lingerie, though, without a frank conversation around bras.
Bra shopping was always a nightmare for me. By the time I was in the sixth grade, I was a healthy B cup and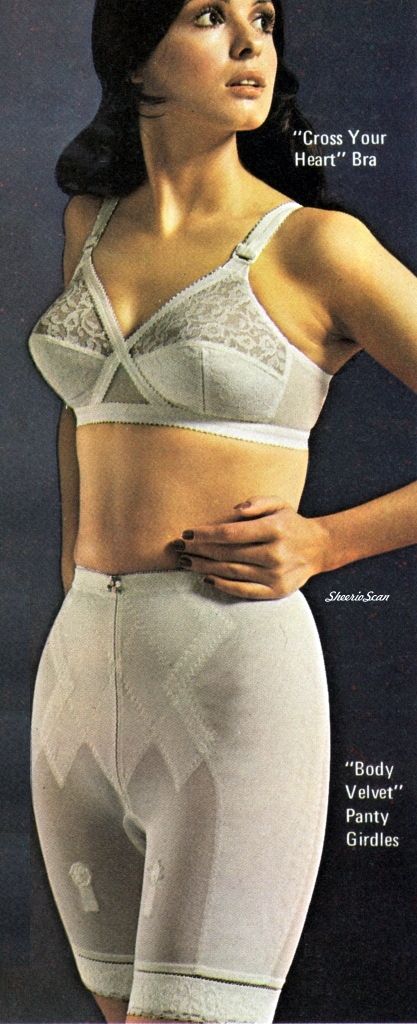 was a D cup by the time I began high school. Sangar Harris was the go-to place for bras in those days and I made do. When it became obvious I had a bit of a problem getting fit, I was taken to a shop downtown that did custom order bras.
My problem was a small rib-cage and large natural breasts; I was sized at a 28H.
I was excited for the experience of having a custom fit bra, until it arrived. This bra wasn't lovely in any way. Talk about serviceable, it looked like a Playtex Cross Your Heart Bra from the 50's.
Yes, the bra fit perfectly, but what young woman desires to wear a bra that looks like it should belong to her grandmother.
I began to believe that my life would always be about practicality. Sturdy bras and cotton panties. Serviceable nightgowns and flannel pajamas.
I'd been married a year before I finally purchased a truly beautiful piece of lingerie.
It was a white lace haltered gown with a pink satin underlay embroidered with tiny flowers. Of course, it had the coveted matching robe.
My husband thought it was a waste of money.
Discouraged, I window shopped in the lingerie departments of Foley's and Dillard's, but rarely purchased anything beyond packages of Hanes panties purchased at Walmart paired with dependable nude bras.
There was this one time that I was in Neiman Marcus and couldn't resist an ice blue silk chemise with ivory lace trim. It was on clearance for $25, a bargain to feed my now secret obsession with beautiful lingerie. Of course, it hung in my closet…only worn when I was home alone.
Over time, I'd add some prettier bras into my wardrobe, but I didn't own a bra that was exquisite until after my divorce.
I finally discovered the world of European bras, designed for larger breasted women with practicality and beauty both in mind.
To be honest, I went a little wild with lingerie after the divorce. Stunning bras in black lace with marvelous matching panties. A tantalizing white satin corset. A lush red velvet halter dress. And stockings. I found a love for provocative thigh high stockings with wide lace cuffs.
I had begun to make the connection that wearing delicious lingerie made me feel powerful. I felt pretty when I was wearing a beautiful bra and sexy when I wore stockings instead of pantyhose.
Sure, I loved enticing the men I was dating by wearing inviting lingerie. But I began to understand that I was choosing the lingerie not to turn them on.
I was choosing lingerie that made me feel turned on to my mere existence.
Part of growing and healing all of our childhood wounds can be found in our ability to find our way around not just the big things, but the small little stories that pile upon each other and slowly shift how we come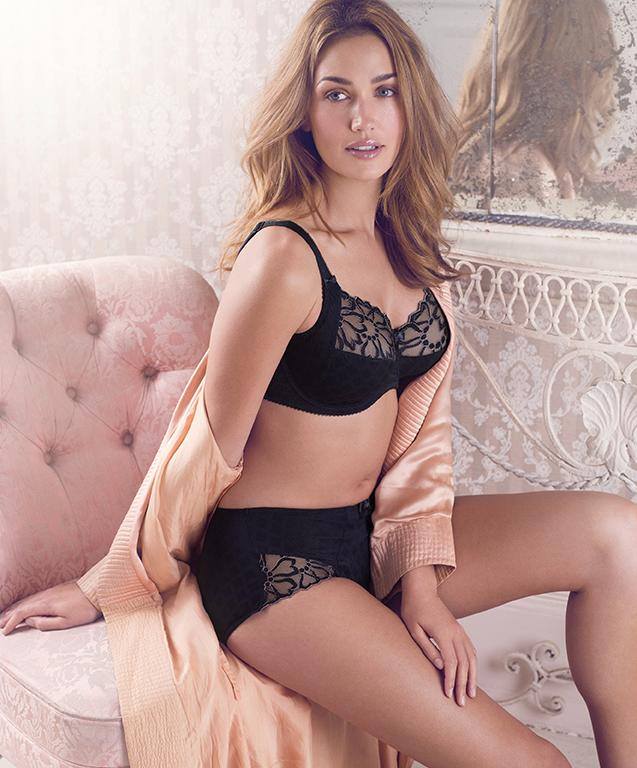 to see ourselves.
We get pigeonholed by folks; My sister was the pretty one and I was the smart one. And smart girls don't look sexy and they sure don't dress to entice. She got the pretty lingerie and the colorful bras and I got what was serviceable. As the smart girl, of course, my logic told me that because I was never as pretty as my sister, I didn't deserve pretty things.
That theory, of course, was confirmed when I did finally treat myself to the kind of beautiful lingerie I had always dreamed about as a little girl, and was summarily was rejected by my husband when I wore it.
Merge that with my growing hate for my body and frustrations with the clothing industry. Any bra size above a DD cup is looked upon as freakish.
It's hard to love yourself when you don't love your body. Large breasts, while desirable in media, aren't really desired in real life. I should be ashamed of my curves and my cleavage.
As a part of changing the ending of all those stories I told myself about being not pretty enough, undesirable, unwanted, or never sexy enough, I began shifting the dialogue one luxuriously beautiful bra at at time.
It wasn't done in a conscious way, but I had stumbled upon the way to heal myself.
I think we humans are wired to heal our own wounds so that we can move forward as we age.
Who would have ever believed that the mere act of claiming my own desire to dress in beautiful and sexy things could help heal how I felt about myself and who I am in the world?
Two years ago, I set out to consciously change my dialogue around what I desired.
I made the decision that it was time to have a full wardrobe of foundational garments, so I purchased eight bras and at least two pairs of panties for each of them.
Each bra was beautiful – red lace, pink and ivory lace, purple lace, and, of course, several black lace bras. The panties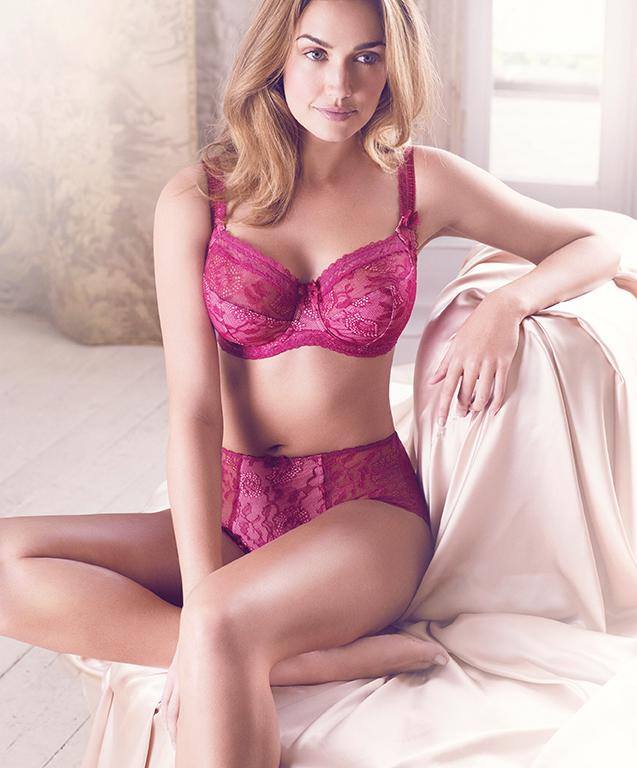 were exquisite. Each bra was low cut and nothing my grandmother would choose.
I also began to make peace with my body and my size. Any sales person that tried to talk me into something more practical – or worse yet suggested I look at minimizer bras to make me look more "normal" was walked away from.
It takes a lot of courage to stand naked in a dressing room and walk away from "the expert" who is trying to get you to conform to a societal standard.
Most of the bras I purchased were lace bras with side supports created by the British Brand Fantasie. They were a 38G.
After the bras came nightgowns. Though I rarely sleep clothed, I still wanted satiny gowns and matching robes for lounging before bed and on weekend mornings.
All these years later, I've come full circle.
I went bra shopping on Tuesday with the sole purpose of leaving Nordstrom's with a light colored TShirt bra. Thank goodness one of my favorite bra fitters was working, because it makes the process of looking for something specific so much less stressful.
After some trial and error, I left with a basic almost boring nude bra with a tiny nude and black polka dot bow.  It was a 36GG and by Elomi, Fantasie's sister company.
Yes, it was a serviceable bra my mother would have chosen for me, however, I was happy about it for two reasons. One, I wasn't dousing my desire for beautiful lingerie to wear next to my skin as I had a full wardrobe of gorgeous bras at home. Two, sometimes you just need something basic and practical.
It brought my bra count to 10 bras that fit me. There's the Panache workout bra in a 34H. The new nude 36GG. A couple of older 36G's. And the lovely lacy selections of 38Gs.
Though I still may have some work to do when it comes to how I feel about my body, I've come to understand that my yearnings for those delectable negligees and lacy underthings wasn't weird or crazy. It was simply a piece of my inner landscape pulling me towards what I needed to feel at home in this place that holds my soul.
If you have a deep longing for something, it may be your soul's way of calling you home. To You.
Photos: Old Hollywood from Archives, Vintage Playtex Ad, and Beautiful looks from Fantasie's Fall 2015 line. Featured image is via Unsplash.