Through all the stuff in a typical week, this one began and ended in Cincinnati.
We officially live in the Dayton area; the TV stations are from Dayton as are most of the radio stations.But Cincinnati
is just a hop skip and jump away. It's funny, but when I lived in the Dallas area, a trip from my home in Arlington to the Galleria or North Park mall would take me around an hour, yet here in the Midwest, I am in Cincinnati in forty minutes.
Which is a whole 'nother another broadcast area.
On Tuesday, I drove over to the Kenwood area so that I could go to the big Macy's Furniture Gallery in search of a chair for the bedroom. And, to go to Nordstrom's for the previously mentioned serviceable nude bra.
We ended the weekend in Downtown Cincinnati. We visited downtown the first year we were here and beyond a solo trip to Sak's to check out their lingerie sale the winter before last, we haven't been back. We were gifted tickets to the Bengals vs. Chicago Bears game and, instead of worrying with parking and the leaving crowds, I booked us a room at the Hilton downtown.
We headed down in the early afternoon, checked in and wandered around Fountain Square for a late lunch. We had a little bit of time to kill, so we headed back to the hotel to check out the beautiful architecture. All those Art Deco details were just a delight. Those old historic buildings have a palpable soul. We also got to see more than one Bride 😉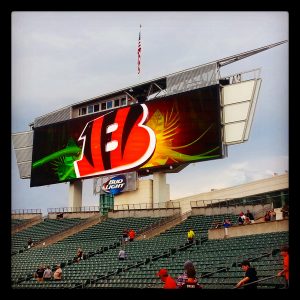 Then, it was time to head to Paul Brown Stadium and be a part of the action. I have a lot of observations about the experience, but those can wait as I'm planning to share them in the newsletter this week.
It was a good decision. We were  able to safely park the car and instead of fighting traffic at 11 PM, we just walked a few blocks to the game and back to our room for a night. The rooms are TINY and quaint, but comfortable…typical of hotels built in the 1930's. I wonder if Elvis, Bing Crosby or Winston Churchill were given similar rooms or suites…
We ended our time at brunch in their Palm Court; a lavish spread, impeccable service, and a soft jazz pianist.
What I'm Writing
I didn't write anything fresh for the work blog this week, but instead did major edits. I wrote two blog posts last week and by the time I got through editing one of them, I realized it needed to be split into two. Thanks to feeling passionate about the subject (busyness) and the word count going near 2,000…much too long for a work blog post…I found a good breaking point and published the first one this week.
When I edit now, I am finding that I am editing more heavily. There's more magic that seems to happen when I step away from something for while and then come back to it. What you see here in this blog, my personal blog, is the more write and done approach, without a lot of editing, so at times it feels more raw and certainly isn't as politically correct.
The piece I wrote about lingerie is a piece of the memoir. Unedited, of course. Not quite polished, but it's the direction I am going with the first draft.
What's Happening with Work
I love coaching and this was a good week to be with clients. As time progresses towards 2016, I am going to be even more diligent in segregating coaching days and writing days as it's harder for me to switch gears back to writing after I've coached.
My weekly newsletter goes out on Saturday mornings and, in the past, I was often doing it late on Fridays or sometimes even up early Saturday mornings because I was just too tired to do it. This week, I had it finished on Wednesday and happily in queue waiting for Mailchimp to magically send it along to subscribers.
I have become dedicated to work harder at doing work AHEAD of time instead of waiting until the deadline of that Saturday morning newsletter. It's a real shift for me. It feels good, it feels right. But, of course I worry that something is going to happen that makes the newsletter not feel authentic enough, because that is where I share what I'm learning – in the midst of learning at least.
One of the changes I am going to be making in 2016 is to go to doing the newsletter every other week.
It feels good yet scary, too. I'm planning on still doing 2 blog posts and have to make the decision on how the blog is laying out. I had tried to not do a link to read because I personally hate to click, but would readers prefer that?
What I'm Reading
I'm still reading An Altar in the World, each morning. It's drawing to a close and am contemplating what to pick up next.
I am also reading – well, listening to -Taylor's next book Learning to Walk in the Dark. I have the physical book on my desk, but had also borrowed the CD's from the library. I love listening to books on tape when I am driving, so began listening as I drove to Cincinnati earlier in the week – and have been listening to snatches here and there as I run errands.  I am putting little post-it notes in the book as something she say strikes me that I need to re-read.
I returned Jane Green's latest, Summer Secrets, to the library this week. Unfinished. I gave it a good try, but I just didn't love the main character, which kept me from the innate curiosity of what had happened to this young alcoholic woman?
Alert by James Patterson certainly held my attention. I love the Michael Bennett Character that Patterson created and he feels more real, more fallible than Alex Cross.  Of course, the Cross books are the only series Patterson still writes 100% without working with a co-writer.
The September book for our book club is the Death of Santini by Pat Conroy and I will be reading that book this week.
What We're Eating
This week seems to be about two things: Bacon and Salmon.
I am obsessed with Bacon this week. I dreamed about perfect bacon sandwiches on thick wheat bread topped with fresh tomatoes and a big dollop of mayo. Though I'm not much of a fan of fast food nor of eating in the car, after shopping on Tuesday, I just didn't have the energy to face a restaurant full of people, so I got a BLT at Arby's. I've never been a fan of Arby's, but I guess the lull of James Earl Jones's voice touting the deliciousness of their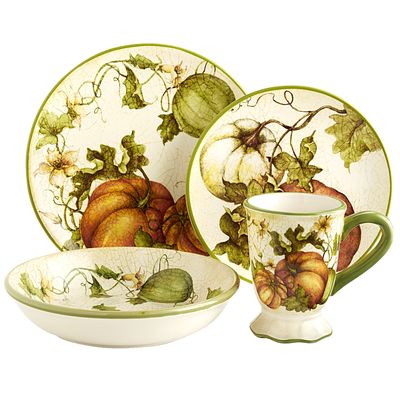 sandwiches enticed me into giving them another try. And I am glad I did.
Of course, while confessing my bacon sins I should mention the food I NEVER eat being consumed this weekend – like drinking beer and eating brats slathered in mustard. But, isn't that what you're supposed to have at a Football Stadium? 😉
Salmon has been a prevalent meal choice this week. Salmon with veggies and then salmon on top of salads. I purchased some new dishes at Pier One – just two actually – large pumpkin bowls for pasta or salads.
Aren't they lovely? I have Christmas dishes and have been lusting after all the fall themed dishes for years.
I've also gone back to one of my tried-and-true fall backs: protein shakes. Putting more dedicated time in the office to the books means I just forget to eat until I'm starving or just not hungry yet I know my body is needing food.
I tried a few vegetarian proteins – they are pea proteins – but they were just too gritty for me. I'm back to using a whey protein powder. Yesterday's was the best – a cup of frozen blueberries, a fresh peach, vanilla almond milk and the protein powder. Healthier than my BLT but just as satisfying.
What's I'm Shaking My Head At
I've begun to wonder if people were always vicious and violent and inhuman or if we just hear about it immediately now. From the shooting of the reporter and her camera man during a live broadcast to the story of Derrick Rose and his alleged misdeeds.
I used to work in Network news. Back when CNN was just beginning but we hadn't yet slipped into our 24-hour News Cycle. I can remember coming home from work in those days and wanting just silence as I was "news-ed out" from my day watching Network feeds. I want to be informed about the world, but I don't want to lose myself in the process.
What I Am Obsessing Over
I came to the conclusion last weekend that I needed to either do a writing workshop, a writing group, a writing residency or a mix of them.   I am in discussions with a few ladies I adore and trust about a writing group. And I have my eye on a writing workshop/retreat that I'm really wanting to be a part of.
What's Really Floating My Boat
After searching for ages and ages, I finally purchased a reading chair for the bedroom. It's always been a dream of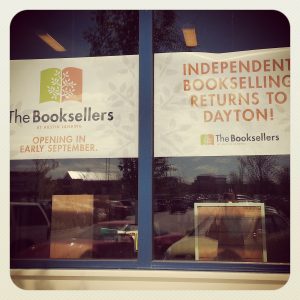 mine, to have a cozy spot to curl up and read or write. I've experimented with how it would feel by dragging one of the chairs from the living room in there when JB has traveled. The Chosen Chair arrives tomorrow.
An independent bookstore is coming to our area soon. We visited their store in downtown Cincinnati this weekend and I'm more excited than I was before. I love the ease of Amazon and the coziness of Barnes & Noble, but this place will have coffee and be within biking distance of home.
I went to lunch with a friend & colleague this week. I have become a bit of a recluse since moving here to Dayton and forcing myself to be out of the house – and not just for errands but to interact with others – is good for me. I am a true extrovert, but the older I get, the more I value my solitude for creation. The thing is, there's a fine line between solitude and hermitage….and, for my own well to be fed, I need to remember that sometimes, I just need people.
Can you believe we're almost at the end of August?
We've one more week to go until the Labor Day weekend brings an official end – in my mind – to summer. This week is full of extracurricular activities for me, so I'll just say…Happy Sunday and Happy first week of September!