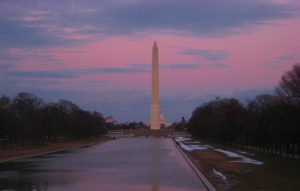 My first visit to Washington DC occurred in 1985. I was on the cusp of womanhood, though at seventeen I would have told you I was all grown up. It was the first trip I made solo, well, not exactly solo in the broad sense of the word, but in the narrow sense of my teenage world, getting on a plane without my parents or sister felt like a solo trip.
I felt very sophisticated.
I had been chosen as an American Airlines Scholar and, along with dozens of other area teens, were being whisked away to DC for a whirlwind tour of DC in the summer before our senior year of high school, thanks to being nominated by our school counselors. We had breakfast with our Congressman, saw the Vietnam Veteran's Memorial shortly after it's unveiling, toured all the major sites in the city, and slept in the dorms of a college whose name I can't remember.
It was the first time I ate pizza topped with pineapple and the first time I felt a little free to be myself.
Being surrounded by people I had just met allowed me the freedom to remove my masks without the fear of love being withdrawn or the need to live up to the expectations of others.
My second trip to DC was nothing like the first. I was still married to my children's father and our relationship was tenuous. But he had been invited to participate in a special run from Philadelphia to DC to commemorate Law Enforcement Memorial week and had decided a trip for the girls would be educational.
Flying alone with two young children and trying to manage the DC Metro system for the first time was stressful, but I managed it. I saw DC on foot that trip, a new experience that was refreshing despite the tension.
Oh, but the masks of dutiful wife and perfect mother were firmly in place.
My third trip to DC literally changed my life.
It was Memorial Day Weekend of 2006, almost 20 years after that first trip to DC. I tasted what freedom could be like, in every permutation of the word.
I went at the encouragement of a friend to scout for work and by the end of the trip, I had committed to visiting DC at least once per month for the foreseeable future. I had also committed to friend that I'd visit a mutual friend's grave at Arlington National Cemetery whenever I was in town.
I stopped counting trips to DC after that.
I visited at least once a month from May of 2006 until July of 2010. With each trip, a little more of the real me emerged and it became harder and harder to put my masks back in place. In 2008, I basically lived in DC. I was working full-time for a client on a project for DOE. And by full-time, 50-hour weeks were the norm. It became easier to just stay in town for the weekend to avoid the stress of packing, traveling, returning, and unpacking again.
During those years, I explored every nook and cranny of DC I could. I found favorite places to eat and spaces which made me feel closer to God and to myself. I discovered tiny corners in big museums that made me feel like I was coming home to myself.
The folks at the Monaco in DC became my witnesses during the most critical years.
I'd visited here and there, but during my 2008 stint, it became my home.  The Monaco employees treated me like family, and I met the spouses and parents of more than one member of their staff.
The shelter and loving care I was given while a guest there allowed me to be vulnerable, grow my creativity, discover different facets of my personality, and grieve the loss of my mother. I also first me the man I would fall in love there. And, it was in their restaurant months later that JB told me he had real feelings for me and wanted to give this relationship thing a real try.
This past week, I was welcomed back home to the Monaco.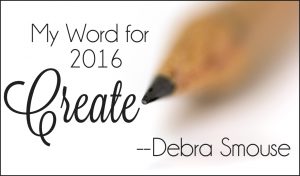 Note: I sat down to write about my trip this past week, but that's not what came out on the page. I have several unpublished posts here in the bowels of WordPress, not published because it wasn't what I planned to write about.  As an ENTJ and a planner, which is wonderful in a lot of ways, but stifling in others.
If I am to be true to Create as my theme for 2016, must give myself permission to Create Differently here….
Later this week, I'll share more about my most recent trip to DC…and how that visit took me more deeply into my Word of the Year: Create.