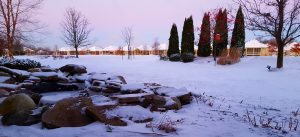 Winter has finally arrived in Ohio. Snow fell fast and furiously Sunday morning, leaving swaths of white over green grass and tiny layers of fluffiness across barren branches. The winds were intense, forcing legions of flakes to stick to the screens instead of allowing them to fall to earth.
When Monday morning dawned with a pristine landscape and soft orange light shot with gold, it revealed that the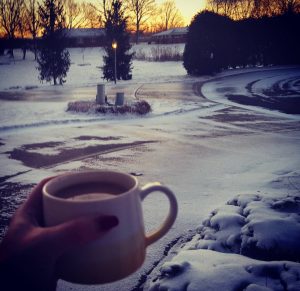 warm temperatures when the snow began Sunday morning meant that though the ground was covered with a scant two inches, the driveway was mostly bare. Thankfully, that meant there was no need to shovel!
Though it wasn't a sun-drenched day, it was a clear day with enough shininess to wear amber-colored sunglasses.
I must confess, I feel as if Mother Nature had a copy of my calendar when she planned the weather this week.
Sunday's snow arrived en force after I dropped JB at the airport.
Monday was blessedly clear, and as much as I love the beauty of the snow, I don't like to have to drive in it. You see, I had my quarterly appointment with my hormone doctor, which requires a forty-five minute drive to Cincinnati.
Today (Tuesday), I have zero outside appointments. It's been snowing since around midnight last night and the skies are dark steel with shades of pewter. A perfect day to snuggle in and write.
Yet the forecast shows that the snow will be ending late this afternoon, leaving Wednesday clear. Yes, a day when my calendar is chock-full of meetings and appointments that will have me on the go from 7 AM to 3 PM.
And Thursday shows to be clear, which is a Godsend considering I have a pre-dawn flight to catch.
I enthusiastically squeezed every drop out of my Monday.
My doctor's office is across the street from Kenwood Towne Centre, where there is a Nordstrom, Dillard's, the big Macy's, and The Container Store. I hadn't planned much shopping to be honest, but there were a couple of errands I wanted to cross off my long-term list.
I popped into The Container Store, where I finally found a trashcan skinny enough to fit between the dryer and the utility sink in the laundry room. I also picked up quilted storage containers for holiday wreaths and my Christmas dishes. And, a new soap dish that will hopefully stay stuck to the bathroom tile.
Those tasks off my list, I can finally finish appropriately putting away Christmas in a manner that feels more organized and consolidated. And I will no longer be transferring the contents of the lint trap from the laundry room to the kitchen. We did have a trashcan in there, but it was a huge, monstrous thing and I put it in the basement when we cleaned it out.
I also made a quick foray to the lingerie department at Nordstrom, where I picked up a plain black t-shirt bra. Despite the fact that I have a dozen bras that I religiously rotate throughout the week, new lingerie has to make it's way in on occasion. Fortunately, my favorite saleslady was there, which made the process gloriously loving and painless.
I headed towards home and stopped by the new Liberty Center. Though Kenwood has a Dillard's, the Dillard's at Liberty Center seems nicer, with a home department and spacious dressing rooms. Liberty Center also has plethora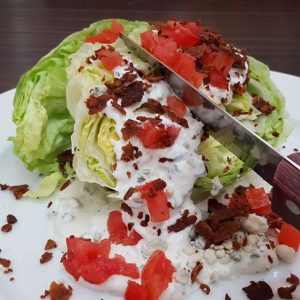 of great restaurants. And who am I kidding if I were to pretend a day out didn't call the necessity of a nice lunch?
I've been craving one of those giant wedge salads from Brio Tuscan Grille (aka their "Bistecca Insalata"). And it was truly perfection: crisp, luscious iceberg topped with glorious tomatoes, slightly salty Gorgonzola, and smoky bacon. I ordered a small flatbread as well, but the star of the meal was that salad.
After sufficient nutrition, I leisurely explored Dillard's.
I was searching for a new dress appropriate for dinner out in DC, but nothing was quite right. I did, however, take advantage of their clearance sales.
I snagged a soft, knee-length burgundy sweater for only $20, splendid for days like today when frigid temperatures call for layers. I also found several pairs of earrings, delightful bargains at 65% off.
Earrings are a must on even my most casual days. Thanks to the nature of my fine, curly tresses, earrings are often lost after becoming entangled in my hair and never do I realize it until hours later. I lost a favorite pearl earring, classic silver hoop, and gold dangle between Thanksgiving and Christmas. A bit of hunting and $30 later, my jewelry box was restocked with gold hoops, silver hoops, silver dangles and creamy pearl studs.
While I was in the accessory department, I lusted over sunglasses. I've come to prefer amber-colored lenses for sunglasses after learning to play golf. They make the greens more vibrant and make driving on snowy bright days easier. The pair of Oakley golfing glasses I regularly wear are eight years old now. They have some scratches and, to be honest, are a pair of men's glasses. So my final purchase was a lovely pair of tortoise-shell Vince Camuto sunglasses with amber lenses, not too much of an indulgence at 65% off.
Then it was home, where email awaited.
Today is turning out to be the complete opposite of yesterday. After coffee and some writing, I made a big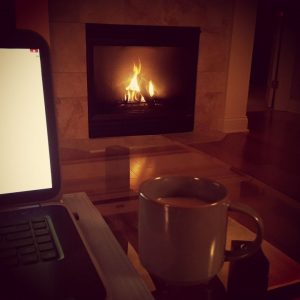 breakfast and settled back into writing by the fireplace as I watch the blowing of the snow. Later this afternoon after lunch, I'll crank up the snow blower and tackle the driveway. I'm not a fan of shoveling, but must admit the snowblower can be fun. Then maybe a shower and some dinner.
Days like yesterday, followed by days like today are critical to my mental and emotional health.
They are also critical  to how I feed and nurture my creativity.
As an extrovert, I need to have periods of time around others. While I'm not a fan of large crowds, I've learned that mundane activities that get me out of the house  and interacting with other souls isn't a want, it's a need.  Days upon days of being home-bound make me feel drained and blue. Simple interactions, be it banter with a waitress or sharing a laugh with a salesperson or even exchanging a kind smile with a fellow shopper amps my energy.
Despite being an extrovert, I'm not a "write at a cafe" kind of gal. My creativity is fed through people watching and overheard bits of conversation, so my time is best served in that setting by focusing on taking things in rather than producing.
I've learned I create my best work when I am ensconced in (mostly) quiet and (virtually) alone.
Part of being true to making 2016 the Year of Create, it's critical that I understand what makes me tick.
What exhausts me and what fuels me. I have a responsibility to myself and my work to ensure that my needs are met. It's imperative that I nourish my energy and my creativity in a delicate dance between my extroverted-self and my creative-self.
One of my tasks in the early part of this year is to determine how this space – DebraLoves.Com – serves my honoring how I Create and how I desire to Create Differently in 2016. I'll continue to share more ways in which Create will play out and why it's my Word for 2016.
What about you? What fuels and exhausts you? How do you nourish the various parts of your life? What is your Word demanding you to do? In what ways can you be more responsible for your needs and work?