During the month of December, author Corinne Cunningham invited us to share a peek into our mornings on this final month of 2020 on Instagram and use the tag #OurDecemberMornings as a way to connect and find other like-minded souls in the sea of social media.
To be honest, my relationship with Instagram has been hot and cold this year. I love the beauty that Instagram invites me to witness. And it's the one space on social media that I have kept for more personal glimpses into my own life rather than Life Coach Debra.
I approach it mostly in the same way I did blogs way back when.
But the thing is: it isn't a blog – and all of the content isn't under my control. I saw that clearly when my friend Becca lost access to her account for almost three days. In reporting someone spoofing her account, Instagram took down HER account rather than the imposter. And it took  her several days to get it back. And though she had all the images tucked safely away, she didn't have all hear heartfelt words backed up anywhere.
The power social media giants wield over us is mind-blowing. To arbitrarily remove someone's presence – especially when it's clearly not a SPAM account. Also, I didn't love how Instagram chose to censor hashtags leading up to – and several weeks after the election. With the inability to see recent hashtags, it became hard for any small shop that relied upon Instagram to gain traffic.
All that said…I am still choosing to utilize my Instagram account because in our modern times it is still one of the best ways to connect to other creatives. And a way to light my own creative spark.
Despite it being my favorite channel of social media, I only made 67 posts in 2020 on Instagram. Our December Mornings inspired me to share more there. And during this prompt of "Our December Mornings" I did connect with new people. And I did write more – 11 of my 67 posts (16%) this year were in December.
One of the lessons learned this year about my body of work and social media is that I want control and ownership of my own words. And because I chose to put a fair amount of thought, insight, and love into sharing glimpses into my life this month, I am going to make note of them here, too.
Our December Mornings – December 01, 2020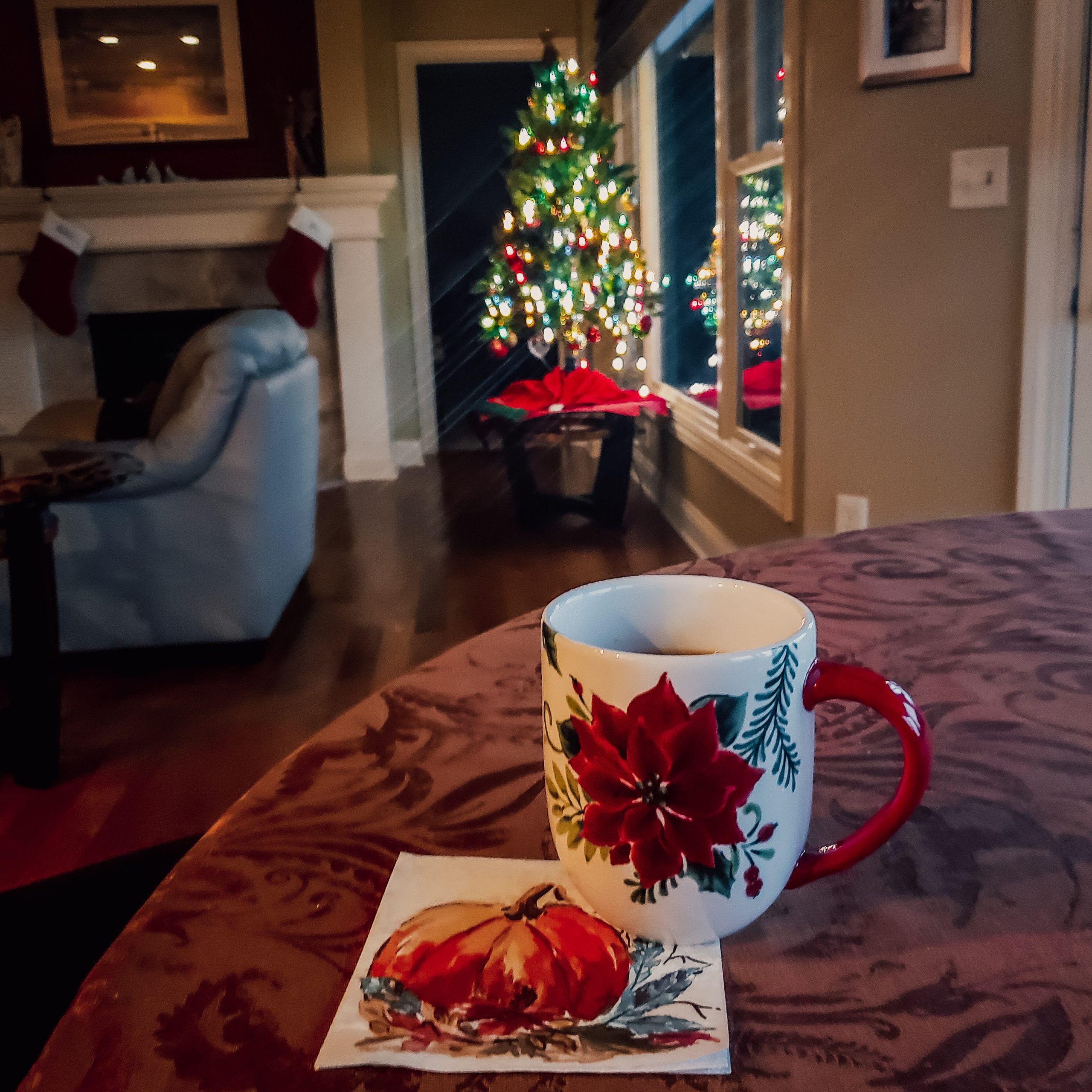 Every morning as the coffee brews I unload the dishwasher, put the dishes away, and check the fridge for the status of supplies for future meals. Sometimes I put on a load of laundry, too. It's so easy to get caught in the slipstream of chores and other demands on my time. Yet, as the days become shorter, I'm finding that I am needing a pause. Because otherwise the needs of tending the house can result in me not arriving at my desk for hours.
One thing I've lost in these COVID days is most of the transitional cues that helped move me from one part of my day to the next. And in some ways I am still mourning that loss despite my logical brain telling me to move on and figure it out.
Since the days have become shorter, I have begun introducing a pause. To help me shut down the "homemaker" brain and prepare to shift to "writer. So, I have begun taking my first cup of coffee here to the dining room table. I grab a pretty cocktail napkin, place my cup on the table and simply sit here at the dining room table. Rather than read, write, or even read the Advent devotional I began on Sunday, I am simply sitting and sipping. Gazing out the window and admiring the little Christmas Tree (we have two). Allowing my thoughts to unravel and unfurl from their tight cocoons of sleep. A focus on being rather than doing.
(Oh. And note to self: wash the tablecloth from Thanksgiving, put the Christmas placemats back on the table, and find those cute Christmas cocktail napkins….)
December 02, 2020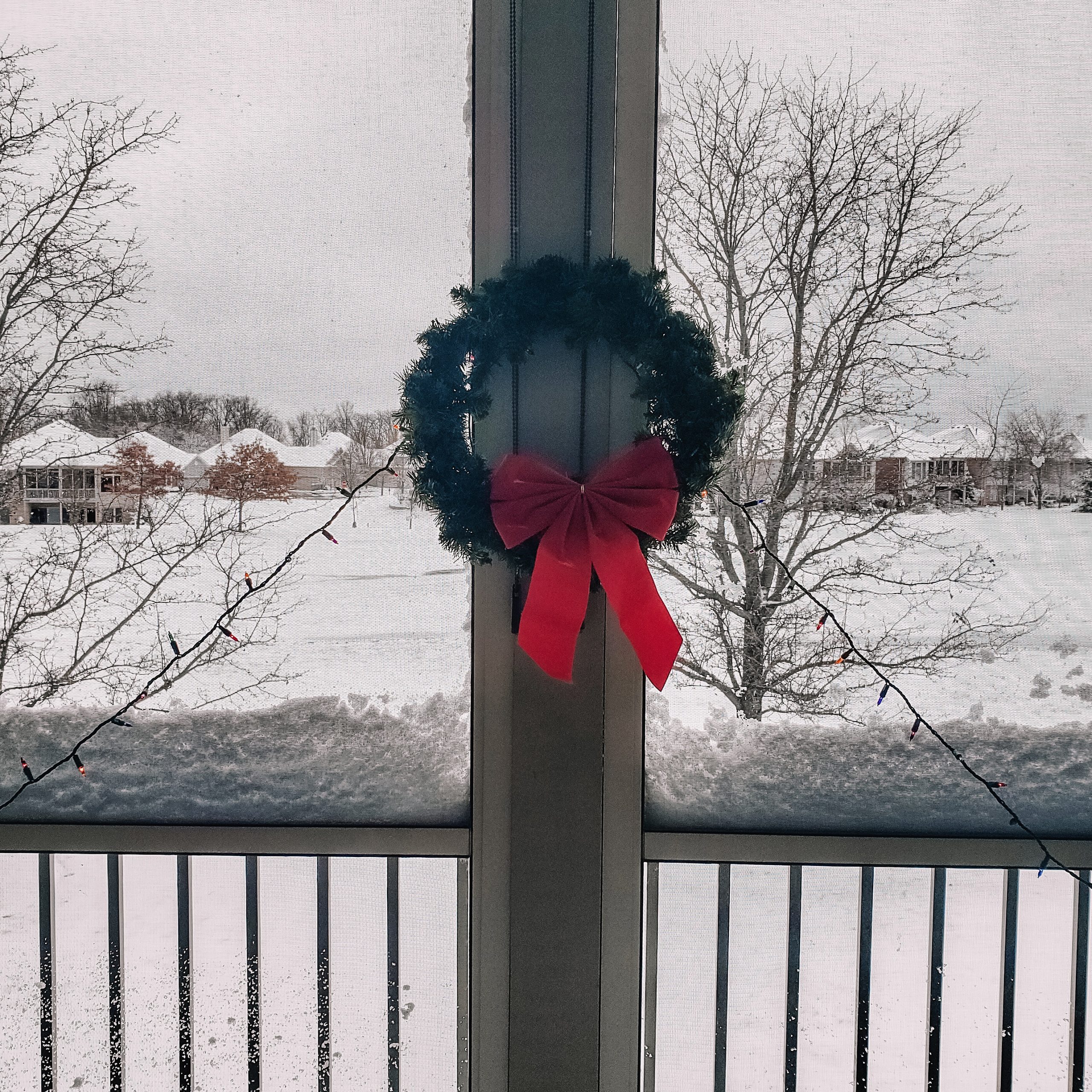 "Thank goodness for the first snow, it was a reminder–no matter how old you became and how much you'd seen, things could still be new if you were willing to believe they still mattered." – Candace Bushnell
We had our first snowfall this week and, as always, I was entranced by the ways those tiny flakes sought purchase to land and clung to each other. This morning as I sipped my coffee I also savored this miracle of nature and how important it is to pause and admire the right now. How the wind and snow worked together to settle against the porch screens.
The forecast is calling for sunshine and temps in the 40's today so I know that soon this will be gone. That's my lesson to take into the day: don't fail to admire the beauty and look for the miracles right now. Because if you intend to do it "later" you'll miss them.
December 03, 2020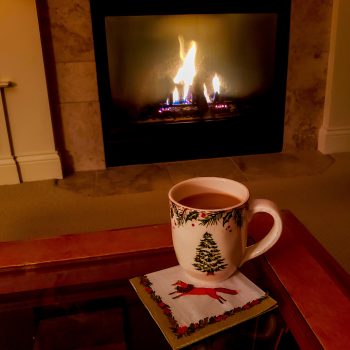 Today was one of *those* mornings. Awake at 3 AM and arising at 4 AM to stop the spinning thoughts and to avoid waking John with my impatience at my inability to drift back off. I used to try to force myself to be productive if I was awake before "normal" time. And though I have a newsletter to write, a blog post to edit, and a dozen tasks I could get done, I chose gentleness instead.
I ventured downstairs, made a half-pot of coffee, and sat by the fire. I re-read the last letter a friend sent me with the intention of writing back today. And I rested. There's something about curling up with a cup of coffee by the fire that's more restful than laying in bed unable to fall back to sleep.
Soon I will dive into the day: put on a load of laundry, place a pick-up order for Target to replenish laundry supplies, and gather straggling garbage before the trash guy gets here. I'll pour a second cup of coffee – a rarity yet needed today. Do my Advent reading and write that letter as I savor that 2nd cup. All the while reminding myself to keep going gentle into the day. Because kindness needs to begin with being kind to me.
What do YOU do with those mornings when you wake up way too early?
December 06, 2020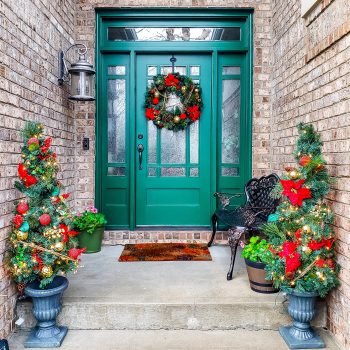 "Beauty, as you know, is my lifeline. I breathe beauty because what is beautiful is both true and good."–Alexandra Stoddard
Earlier this year, we had the front door painted this beautiful @sherwinwilliams Shamrock Green. The door is wooden and while we loved it in its natural state, the morning sun was just too much on the finish. When our painters suggested paint rather than varnish, we took the leap. I loved it from the start while it took John a bit of time to get used to it. Making the change, though, encouraged us to add more things to make the porch not just a porch, but a welcoming spot of beauty.
First was the little bench and then came the pink geraniums (see them still peeking out despite the fact that it's December?)
Now at Christmas time I'm even more in love. I know most of us aren't welcoming guests into our home, but I like to thank that even if folks aren't dropping by, they find a sense of welcome and a breath of beauty. All the package delivery guys especially love that little bench. Of course, I am reminded that WE matter, too. And anytime we get the mail, pick up a package, or return from an errand, we're met with something inviting and lovely that is sure to provide balm for the soul.
December 08,2020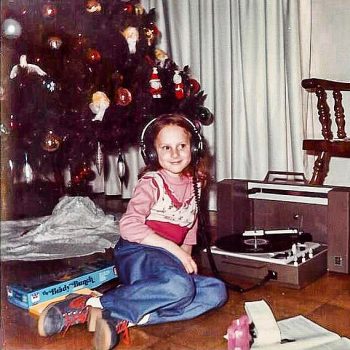 As I sit with coffee in hand on these quiet December mornings my mind often wanders back to Christmases as a little girl. Gosh, my Mother loved decking the halls. And though I had no clue that her mood swings were about depression until I was much older, at Christmastime she always rallied. As if all the red and green and those little blonde angels on the tree lifted her out of the fog. And she did always love shopping so that, I'm sure, helped, too since GIFTS was her love language. 😉
2020 has been such a hard year on so many people. And while we are secure in our jobs and much of our life is unchanged, I can't honestly say that I haven't been dealing with those blue feelings myself. Especially when we have grey day after grey day. Yet, I find just sitting with the Christmas tree and admiring the front porch does lift my spirits.
And while I know looking back can be challenging, too, one of the things that's been helping my mental health is to look back through the lens of nostalgia and ask myself some questions. What did I enjoy doing as a child? And what activities allowed me to get lost within them? Were there activities that we rarely did that I always looked forward to doing? How did I tune out all the ways I didn't fit in with other kids at school and find joy? Because, honestly, I was usually effervescent and exuberant about just the experience of being alive.
It's a helpful tool. Because deep within all of us is still that child. And while we can't go back, we can bring her forward. Because often, that child was wiser in a lot of ways than I am today. Especially when it comes to finding the bubbles of happiness is everyday activities. Maybe this would be a good tool for you, too? To remember something that brought you joy and revisit that in some ways. Even if it's just as simple as a cup of cocoa rather than coffee. Or listening to a favorite album on repeat.
(Photo was probably Christmas 1973…but maybe 1974 🥰)
December 10,2020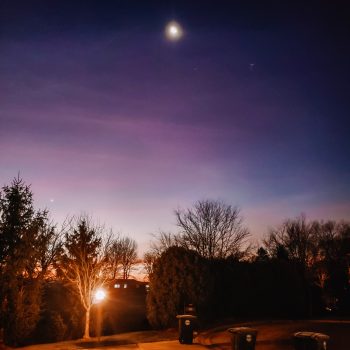 "It is essential that true joys be experienced, that the sunrise not leave us unmoved, for civilization depends on the true joys, all those that have nothing to do with money or affluence—nature, the arts, human love."–May Sarton
With the shorter days, it's rare for me to witness the way the sun begins to peek over the horizon and brush the sky with pinks and purples with little flecks of gold. Even with my extended lingering with coffee, I am usually in my office before sunrise (which right now is around 8 AM!). But today is trash day and our sweet garbage man begins his day early. So the rush to get any last trash collected before he arrives rewarded me with this brilliant and beautiful reward from Mother Nature. Not only the way the sun begins to wash the world with color but also a bright sliver of moon still bathing the earth alongside the stars.
So, I switched things up a bit. I cradled my warm cup of coffee and lingered in the frostiness and simply allowed myself time to soak it all in. A reminder to myself to make a bigger effort to get outside even on the coldest days and see what Nature is offering my heart. Because when I look for inspiration, joy, and beauty I can always find it.
What about you? Are you getting enough nature as we transition to colder and shorter days? Where can you find joy in every day chores?
December 17,2020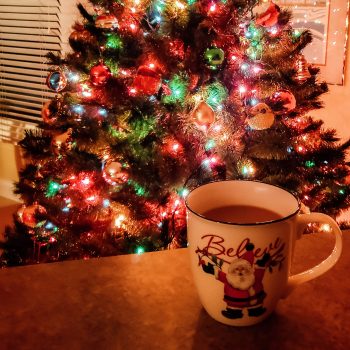 One of my favorite holiday movies is Miracle on 34th Street with Maureen O'Hara and Natalie Wood. The acting is, of course, superb, but it's the theme that draws me in every time. The soft undercurrent of how the intangibles of life are really the most important things.
Most of all, I love the scene where Maureen O'Hara tells her daughter that "Faith is believing in things even when common sense tells you not to." And little Natalie Wood sits there repeating to herself "I believe. I believe. It's silly, but I believe."
I believed in Santa long after my friends stopped believing. I think I was in the 6th grade when Santa stopped leaving presents at our house. My mother had grown tired of the game and told me that she thought I would have caught on much earlier. Intellectually, of course, I knew that Santa wasn't logical, but my heart and soul held onto the concepts surrounding Santa: love, faith, generosity, mystery and magic.
So, I chose to have faith and believe that Santa would bring me an orange for my stocking each year.
Just a little reminder to you – and myself –  about the power of believing. That we can hold to believing in mystery and magic. That we can believe in love and the generosity of the human spirit.
And most of all, having faith. There's a lot to be said for faith in our everyday life, not just now at Christmas.
What inspires you to hold faith?
December 25, 2020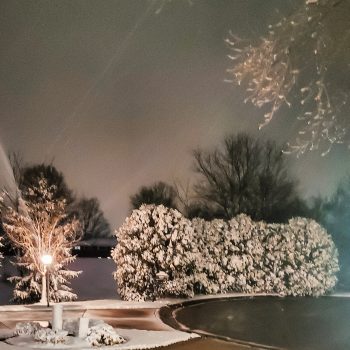 "Christmas waves a magic wand over this world, and behold, everything is softer and more beautiful. "–Norman Vincent Peale
We got the lightest dusting of snow yesterday and today the flurries are still coming. Growing up in Texas, the opportunity to have snow on Christmas always makes my heart swell with joy. To glance from the glowing fire, to our beautiful tree, and then out the window to see snow-covered rooftops is such a blessing on this Christmas Day 2020. Beauty is a blessing. And if we look hard enough, we can always access something beautiful.
Like many of you, our Christmas is a small affair. Just the two of us sharing coffee by the fire as we enjoy our trees and our home. After John's encouragement to keep things simple, we are forgoing any elaborate meals. We had Cobb Salads last night and today is most likely going to be a stir-fry of beef, veggies, and some rice. And though the old me would be SO judgmental of not making "something special" or more traditional, I'm choosing to recognize that this is a radical act of self-care.
That's one of my biggest take-aways from this challenging 2020: choose simplicity.
I hope that your day unfolds in beautiful ways and that even if your Christmas is different from usual this year, that you find some lightness, joy, and peace in your heart.
December 29, 2020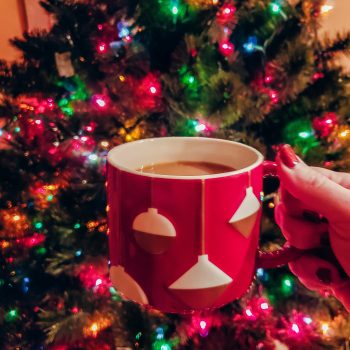 My morning coffee is super special today as I savor it with time by the tree. I mean, I always try to make it special – a reminder to bring ritual into everyday moments. But today I shouldn't be drinking this by the tree.  Because if things had gone as planned, we would be in the midst of a 17 hour drive down to Florida for New Year's with John's family. It's been our tradition since 2014… Yet, we made the hard decision to cancel right before Christmas. And to be honest, I was pretty annoyed about that for many reasons. We were suppose to spend 3 weeks in the Florida sunshine this year…
But yesterday, I breathed a huge sigh of relief and saw all the silver linings of cancelling the trip.
Instead of packing and going through the process of closing down the house for our absence, I worked on my book. Rather than hoping to get to bed early so that we could get on the road by 3 AM, I read a good book and filled my head with beautiful sentences.
And this tree. This glorious tree gets to stay up a bit longer. Rather than rushing to take it down right after Christmas, we can leave it up beyond New Year's Day to my preferred time to de-Christmas the house: Epiphany (Jan. 6th). Which is the traditional day the Wise Men came to visit The Christ Child.
This year has taught me that I can find the worst in any situation alongside the opportunity to find the best in every situation. And whatever it is I look for, I am sure to find it. So I'm choosing to seek the good in as much as possible these days. Because I need every sparkly moment and possibility. Like enjoying this tree, admiring each ornament, and savoring my coffee.
What about you? When do you usually take down your Christmas decorations? And what silver linings are you finding these days.
And that concludes my entries focused on Our December Mornings.
As I look ahead to 2021, I'm pondering how to best share my words – and connect with other creative folks. I sure don't have the answers but that doesn't mean they won't appear soon.
I'd love to hear how you are managing where your body of work is published….