"We are not human beings having a spiritual experience; we are spiritual beings having a human experience."
–Pierre Teilhard de Chardin
The year I gave up making resolutions I also stopped giving up things for Lent. Instead, I choose some sort of Soul tending as a practice for the 40 (actually 46) days of Lent.
This year, I'm committing to a return to morning pages. Three handwritten pages in my journal. Without overthinking or judgement or as a part of creating content. Words just for me.
Writing always fuels my soul. Yet to be honest, the words seem to have slipped away from me in the cacophony of noise from the internet.
So, when contemplating what my soul was thirsty for, I took inspiration from Becca Rowan and her #writingrehab .
I want to extend an invitation to you. Not necessarily to do morning Pages alongside me. But on this Fat Tuesday, to listen to The Quiet voice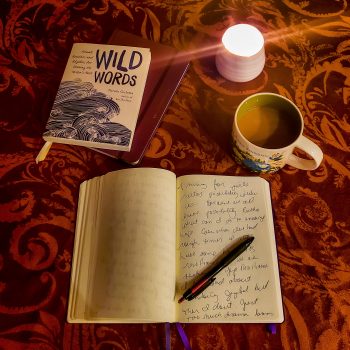 inside you and try to hear what you are most needing in order to nourish yourself. And commit to some sort of Soul tending as your own Lenten practice.
And after morning pages…
I took to the dining room table this morning so that my Morning Pages were accompanied by candlelight and window gazing.
We got a couple of inches of snow last night which made the window gazing part even more inviting.
Originally posted on Instagram: February 25, 2020 and February 27, 2020