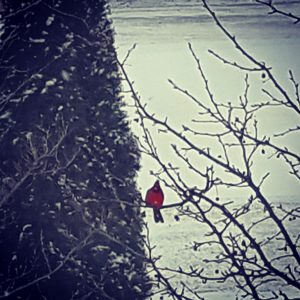 Though we are nine days into the New Year, today feels like the first real day to me.
John was home – sometimes working, sometimes on vacation – from December 20th until January 4th and we got into all kinds of habits I see as good: sleeping until naturally waking, lingering over morning coffee, and an unstructured approach to meal times. When  the alarm went off on our first official work day of 2017, January 5th, it was a big dive back in. He went into the office, I started the year with a 7:15 AM coaching call.
Despite it being full-tilt into work, it felt like practice. Not a gentle, get in the groove practice, but the one where you leave sweating and exhausted. John commuted into the office and was met with multiple staff meetings. We got our first snow of the year. I coached several clients, met a colleague for lunch, and did Every Kind of Errand imaginable.
Two days of hard work and BAM! it was the weekend! I tried to squeeze a full week into those two days and by the time we sat down for "wine hour" on Friday, I was like an overcooked noodle.
And the thing is, one of my intentions for this season – from Christmas to Candlemas (Imbolic) – is to rest. Though I love nothing more than to lounge under a blanket and read, after an hour or so of inactivity, I'm itching to Do Stuff: go to the grocery store, clean out a drawer, or tackle a pile of laundry.
I never said it was going to be easy….but then again, what's the point of setting an intention for something we've already mastered?
Those Put Off Tasks? Check!
For the last five years, I've been meaning to take these two chairs we have to be repaired. The chairs are these great green velour chairs from the late 60's or early 70's and used to live in John's parent's formal living room and then were relegated to storage.  The upholstery was in immaculate shape and they look great. Well, except the bottoms was falling through! Not only did we (finally) take 'em in to be repaired, but they're already back home!
We completed the process of turning a large portion of our basement into a workout room last spring. Over the holidays, we finally added some cardio equipment. First was a bike trainer, which allows an outdoor bike to be ridden indoors. Then, we found a treadmill.
To be honest, we debated on the treadmill due to worries about aging knees, but after a conversation with John's youngest sister, who is older than me and a runner, we opted for a higher-end treadmill with a design meant to give more support to our joints. It will be delivered this week, and I can't wait to get back in a walking/running/sprinting groove.  I'm not a great runner, but I love how I feel when I am running a couple of days a week.  I also like how I feel in my body.
Goodbye, Christmas. Shall we tidy up the place?
Though I prefer to leave our Christmas decorations up through Epiphany, this year, we put everything away on the
2nd. We took advantage of a not-too-cold and dry day – and the fact that John was home to make the work go faster. It seems like more hard work to take it down than it was to put it up!
The only displaced furniture was a single recliner, but we decided to move every stick of furniture in our den downstairs to vacuum under it. This led to a decision to rearrange the furniture. I mean, honestly, we've been sitting in the same place for the last two weeks, so why not flip the sofa and the loveseat to spread out the wear and tear on the cushions?
John seems to like the flip, but I'm not so sure.
We've come smack-dab up against my last of love of change. Yes, we all think we roll well with change, but maybe, just maybe…I don't.
We've agreed to leave it for a bit and see what we think.
Alexa, What's the Weather Forecast?
We received two Echo Dots this season. There was no gift tag and it wasn't on my Amazon account. An attempt at tracking the items resulted in nothing. Amazon doesn't want them back…
After waiting over a week, I set up one of the Echo Dots in my office. I ask Alexa The Weather and the time of the sunrise. I've played my Classical #1 Playlist.  I began using the timer today to set aside writing times.  I've yet to find a consistent news source I want to hear.
I disabled the ability for Alexa to shop for me…
Some of the ladies in my book club LOVE Alexa. I have yet to make up my mind. For now, Alexa will be my co-worker.
The Writing.
I have yet to settle into my writing in this new year. A few words here. A few words in my journal.  Nothing is coming together the way I wish it would.
I have been reading, though. I've finished five or six books since the calendar page turned to 2017. But beyond the writing I did on New Year's Day, I've yet to find the courage to belly up to the bar and work on either of the books.
To be honest, I'm still feeling unsettled. The Unbound part of my Words for 2017 is going to be….the challenge. But then again, like learning to rest, maybe that is the point.