For the first time in our seven years together, John and I are spending Thanksgiving at home – just the two of us.It's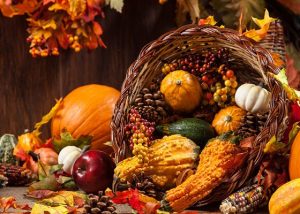 the most relaxed I've felt on this holiday since long before we were together…and I am doubly grateful for the opportunity to create a beautiful meal. There are so many things I enjoy about Thanksgiving with his family, but one thing I miss is the opportunity to contribute something I've made by hand. Traveling for 4 1/2 hours (or more when there is traffic) doesn't lend well to contributing much to the table beyond wine or more sturdy baked goods.
The part of me that loves cooking misses the opportunity to be of service in a way I show love, through food. I felt left out, unable to contribute….
It feels a little strange, to be frank, and the worrier in my can't help but wonder if grudges will be held, a staple of my childhood. Unlike my mother, John's mother doesn't seem to hold grudges. She's more of a "let it go" kind of woman, realizing after 87 years here on this planet, there is a lot to let go of. (I'm not quite sure of all of the sisters, but I am hopeful).
As I sit writing, the turkey is in the oven, turkey stock is simmering on the stove, and there is cornbread dressing in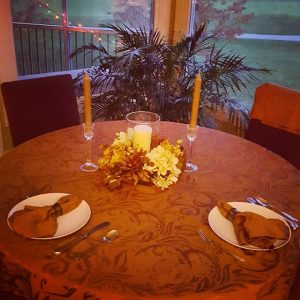 the crock-pot. A slightly modified version of my Aunt Dot's cornbread dressing, to be exact. There is a chocolate pie in the fridge and the table is set.
I still have cooking yet to do, though for now am grateful for the opportunity to come here in this space and write as I sip a glass of wine. Though I still cook a turkey after Thanksgiving, after being gifted a beautiful free-range bird each year by my favorite grocery store, I had forgotten how much hard work goes into wrestling with one. Especially with the added work of the trimmings…something I skip when I do the post-Thanksgiving turkey roasting.
I did some prep work yesterday.
John requested a chocolate pie as our dessert, something I was happy to make over the traditional Pumpkin or Pecan. It's my grandmother's recipe and the one her mother made: an old-fashioned custard style pie made with egg yolks, whole milk, sugar, and a lot of patience. As was typical of previous generations, it's a base that can be customized to make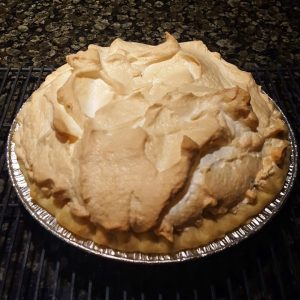 banana pudding or coconut cream pie, as well.
It takes an hour (or more) to make, and that hour of stirring the custard on low connects me with three generations of women.
I am grateful to play with my Aunt Dot's Cornbread Dressing. A recipe my sister sent me, as neither of us can find our Mother's recipe. Aunt Dot's is close, though, with corn bread, "light bread", and chopped boiled eggs. I made a few substitutions: whole grain bread for the white Mrs. Baird's and real butter instead of "oleo" and I'm baking it in the crock pot (4 hours on low). I pared the recipe down from 40 servings to 10, something that took a bit of math. It's the one dish I've missed the most the last six years, because folks in the Midwest tend to make bread dressing.
I can still recall that first Chicago Thanksgiving, missing cornbread dressing and mayo for the day-after Turkey sandwiches. Wanting the comfort of familiar foods and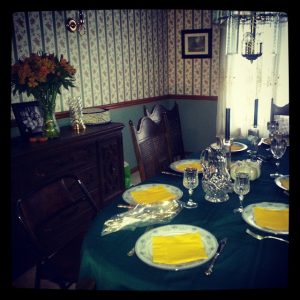 missing my mother so much it hurt.
This morning, I made John's mother's cranberry sauce: one bag of cranberries, one whole orange, and 1/3 cup of sugar tossed in the blender. We may only have a spoonful, but it's a traditional flavor (and better than opening a can of Ocean Spray Jellied).
Now, all that's left is for the turkey to come out of the oven. I'll let it rest as I turn to baking potatoes and Parker House rolls, making gravy, and composing a little salad. We'll light the candles, fill our plates, and linger over this seventh Thanksgiving together.
As John mentioned to me moments ago: we have a good life. It's something we've worked hard for and something to celebrate. And certainly something to be Thankful for….
In fact, we have so much to be thankful for: health, love, friends, family, memories of the past, and hope for the future. I hope you are feeling the same.
Happy Thanksgiving and so much love to you and yours.