When it was first suggested that we practice social distancing, I was on social media a bit more than usual. It was good to see how others were not just preparing to stay at home, but also coping with knowing that we should be staying home most of the time. Now that we are more than three weeks into staying home, I am finding that I'm taking more and more time away from social media.
I know for professional reasons I should continue to post regularly. Yet, despite the changes in the world, I am too anal to change my strategies that I set for myself on Instagram. For me, personally, that means a grid that is beautiful and also varied. And by varied, I don't like to choose photos that are too similar to be next to each other (or on top of each other when you look at a grid). For me, that also means staying "on brand" as well. Because as much as I enjoy Instagram and use it to post things that are more personal than I would post on my professional Facebook page, I still want to stay on task.
Because, surely, this will be over soon. Or at least eventually. You know?
Author Nicole Gulotta pulled together a 30 Days of Haiku Challenge in honor of April being National Poetry Month. So, rather than skipping the challenge of playing with words, I decided to share my poems here even if I don't post them over on Instagram.
Here are my entries for days two, three, and four. Along with photos I probably would have chosen if I they were to find their way to Instagram.
Day Two: Around the House
This Beloved Chair
This Illuminating Light
With Coffee and Books
Day Three: Thoughts While Driving

In the Parking Lot
Just Sitting Here in the Sun
Cardinal Greeting
Day Four: Nourishing Meal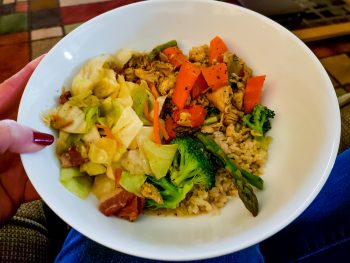 Cabbage and Chicken
A Mess of Healthy Veggies
and Lots of Bacon
Lots of love. And, more later.