When The Great Discontent featured the lovely Elle Luna and introduced the 100 Days of Making, I was intrigued.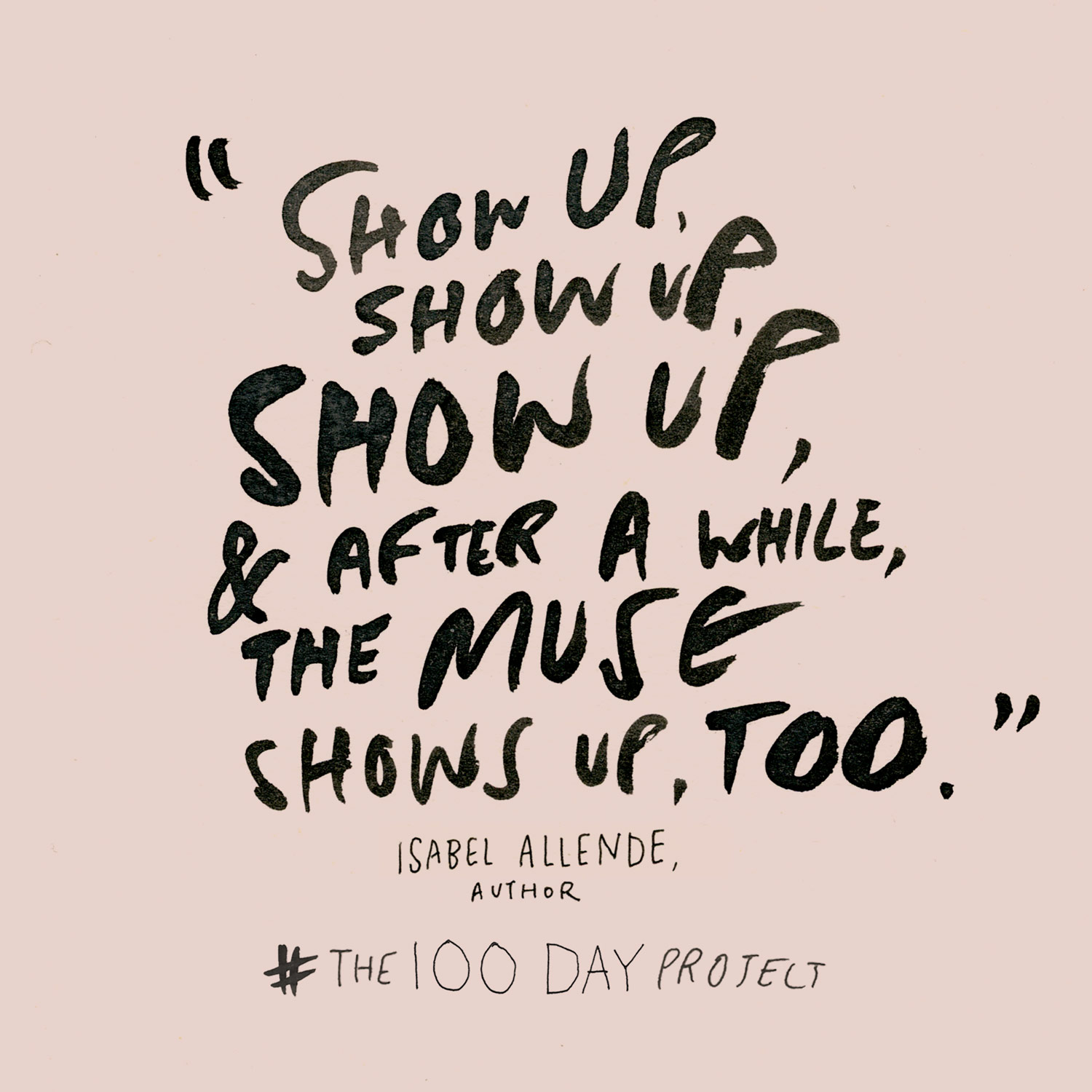 Though I didn't know exactly what my project would be, I felt a deep call to do it.
It's a scary prospect in so many ways. Committing to doing it would be committing to doing something for 100 days straight. It would mean that others would see me and possibly judge me.What if I slipped up? What if I lost interest?
And, with the project on Instagram, it would "have" to be visual, right? I am not an artist (my Mandala class has made that obvious). My photography is passable.  I've done month long photography projects (like In Plain Sight), but I didn't want to to take 100 days of Coffee Photos, no matter how much I love coffee or photos. Because, photos are not my art. Words are my art.
But no matter how many ways I tried to talk myself out of it, I decided to commit. Because my heart asked me to.
What would 100 Days of Making something – anything – show me? About myself. About my body of work. About my process. About my muse.  What would surrendering to 100 days lead me to?
I wanted to do something out of my norm, yet something that would feel nourishing. My art is writing, yet I write all the time. The average week produces between 4000 and 8000 words of content.
I didn't want to commit to 100 days of writing in my journal because often those words aren't meant for anyone else's eyes, and making it this project would taint my journal, a demon I've sought to banish for the last decade. I didn't want to commit to 100 days of blogging, that felt like work, too. The thought of one more piece of consumable professional content per day felt like a prison, not a delight. And writing consumable content that was reflective of my business brand felt contrary to the goal of the project, which is to show up each day and commit to
the process, not fetishize the finished product.
Then it hit me: write fiction.
"Let yourself be silently drawn by the strange pull of what you really love. It will not lead you astray." –Rumi
Though I read a lot of great non-fiction and creative non-fiction. And though I enjoy poetry. What I most passionately consume as a reader when it comes to words is fiction.
I spend the bulk of my writing time deep within the bowels of non-fiction these days. I write blog posts and newsletter articles that directly support my coaching practice. I record recipes. I craft eBooks for subscribers with worksheets and exercises. I put my coaching tools to work in the form of courses. I write articles for YourTango and other websites. I ask the questions that need to be asked so that people can fall in love with their own story.
And the thing is, I used to write fiction. I used to write vignettes. I used to write short stories. I used to work on a novel.  And as I was pondering ideas for 100 Days of…. I realized I hadn't written fiction for at least four years. The thought of writing fiction when "I have so much writing for work that needs to be done" felt frivolous and UN-productive.
Yet, it feels so right and aligned with the intent of the 100 Days Project.
Beginning Monday, April 6th, I will be writing fiction for 100 days. Some days may see full paragraphs. Others may see two. Many days will likely see a single sentence. I'll be handwriting my fiction in a segregated notebook purchased just for this project so that there is no "cross contamination" in my journal or work papers.
If you'd like to follow along, I'll be sharing my project over on Instagram  which I will sometimes post to Facebook or Twitter) and will be tagging it with the official  tag: #The100DayProject as well as my personal one #100DaysofFictionByDebra.
What would 100 Days of Making manifest for you? What would it show you? I'll be looking for other 100 Days projects for inspiration, so be sure and let me know if you'll be participating, too!