Last weekend, a new bookstore opened up near us…. The Booksellers at Austin Landing. I can't express how excited I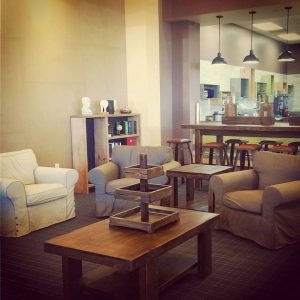 am to be able to walk in and be surrounded by books, magazines, bookish gifts, and people who are dedicated to the reading experience.  Their cafe, Pages, serves pastries, coffee and tea, of course, but also makes sandwiches, salads and soups. And, as a morning person, I was beyond delighted that the store opens at 7 AM during the week.
I took all my letter writing gear with me Wednesday morning, lingered over a latte, and basked in the environment as I wrote.
Right now, they don't have WiFi available, which I see as a blessing, because it also means they don't have the "campers" yet like every other coffee spot and bookstore in the area.  Hooray! It was such a peaceful experience, unlike the last few times I've tried to duck into a coffee shop or bookstore to get a little bit of writing done.
I know that sounds judgmental, but my experience is that when people become daily campers at a coffee shop, they seem to lose any sense of polite behavior. They spread out all their stuff and stay for hours and hours. They watch their videos without headsets and talk to their fellow campers across the way. They talk on their phones – loudly. They smoke outside the entrance despite the "no smoking" signs.
But I digress.
Bookstores have always been a happy place for me. And a bookstore that is minutes away (and even a bike-able distance) feels like a gift.
What I'm Writing
It was frankly a week of indulging in all of my bad writing habits: no morning writing, avoiding my desk, and writing in the living room.  I know these are bad habits, yet because so much of my writing time has been devoted to the copy-paste-format-edit process of converting classes to book formats, my office has felt stifling.
I did write a fresh piece for the work blog describing my Annual Review Process.  And does THIS count as writing?
What's Happening with Work
This entire week has been focused on getting those courses that used to be delivered via email into book format.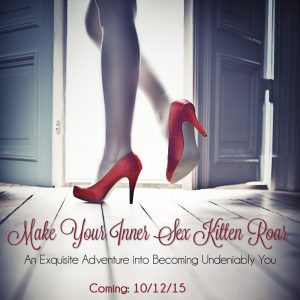 While on the surface it sounds easy, it hasn't been simple. A thirty-day course morphs into a 90 page book and the year-long course is upwards of 450 pages.
Thank God for good (and honest) friends. Editing, I think, is harder than creating sometimes.
I've got, what I believe, is the "final" version for 30 Days to Clarity: Clearing Brain Clutter now. I'm going to begin soft sales next month through Gumroad for the eBook version….and a push to have it available on Amazon as a printed book by Christmas.
30 Days to Clarity: Clearing Soul Clutter is about 80% completed as a compiled book. The email courses actually ran 31 days + a Post Class Reminder instead of 30 Days and I'm editing it to a pure 30 days with any bonus material in the front.
Make Your Inner Sex Kitten Roar is in it's second draft as a book.  I'm did a major editing on the order of the lessons and all the worksheets that accompany each lesson… It still needs three new lessons written, a shift to take all the assignments from the end of the lesson to being segregated with the worksheets, and then a final "fine-tooth-comb" edit.  Oh, and another round of formatting to ensure the Table of Contents only contains titles. I'll also be creating a Workbook to accompany the book, but that will be about and then the fine-tooth-comb edit.
What I'm Reading
I haven't been reading much this week. I abandoned my morning read so that I could edit.
I finished reading the Death of Santini .  It was beautifully written in a painful sort of way if that makes sense? Exquisite pain? Thoroughly enjoyed our book club discussion about it.
This weekend I read Catherine Coulter's The End Game. It's written with her new writing partner  JT Ellison. Fast paced, totally enjoyable, still one of my favorite authors when it comes to romance and thrills and intrigue.
On tap for this coming week are Blue: a Novel by Kayce Stevens Hughlett and Big Magic by Elizabeth Gilbert.
What We're Eating
In an attempt to up my protein and veggie intake and step away from the bread, I'm finding I'm eating lots of eggs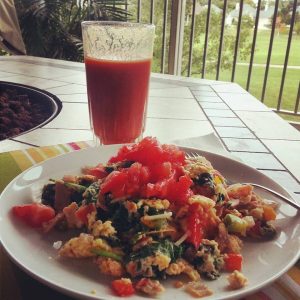 scrambled together with veggies, drinking tomato or V8 juice, and wrapping lunch meat with lettuce leaves. Making a salad for lunch feels like too much work, so I made a small batch of Creamed Cauliflower Soup this week to have with my little lettuce wraps and that's been pretty wonderful.
I'm finding I'm not missing the pasta or rices at dinner, though I am happily making a single batch to serve with JB's portion of dinner. Again, salads are feeling like a lot of work to not make, but EAT. So I've been tossing veggies into the pan along with the chicken or sauteing spinach to go with fish.
Tonight, I'm making my first batch of chili of the season!
What's I'm Shaking My Head At
I attended a "Going Away" party for one of JB's co-workers this Friday.  We've traveled together and he's one of the guys that I've gotten a chance to know and just LIKE him. So I wanted an opportunity to say Goodbye before he left.
I am so grateful for the ability to travel with JB and meet his co-workers. I like to get a sense of the folks he spends so many hours with on a daily basis. I was grateful to meet folks I hadn't met before and reacquaint myself with folks I've met but haven't seen in ages.  To put faces with names.
What I didn't like, though, was "THAT Group of Women".  Not a single one of the ladies smiled at me nor spoke to me, even when I smiled and said hello. They looked me over head-to-toe, whispered with each other, and one poor gal about had whiplash from all her subversive glances as me. I could feel the waves of hostility and dislike.
What is it about some women that they have to be….judgmental, unfriendly, and hostile towards other women? Especially in this situation when I am a co-worker's significant other…and am in no competition for good assignments or for the attention of any co-workers?
What the hell is that about? And who wants to put that kind of energy into the world??
What I Am Obsessing Over
Fall Television. I am so happy that there is new fall television to enjoy. The best tongue-in-cheek new show I've watched is Scream Queens on Fox and the best new Intrigue is NBC's "Blindspot".
What's Really Floating My Boat
Writing letters is still a beautiful experience. I can't wait to GET a letter and read it several times before I write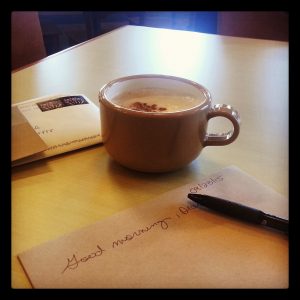 back…and the writing process is intimate and thoughtful. Like a conversation over drinks.
Book club was just delightful. Great discussion, delicious snacks, perfect fall evening (we sat outside on the patio) and so much laughter. A small group of us stayed until after 10:30.
The weather. After the goodbye party, we stopped for dinner on the way home and at al fresco at Brio. What a treat it is to sit outside and enjoy a nice meal. Good food, perfect company and great people watching.
And you know how I feel about JB, but it was nice to hear some of my thoughts reflected back to me by one of his coworkers. He told me how BRILLIANT JB is…and, I agree 😉
This week, I am determined to finish Make Your Inner Sex Kitten Roar, write some fresh content for my book, and get a solid beginning of a draft for the book.
We also have tickets to a fancy dinner Friday night, so I'm looking forward to getting all dressed up
What's on tap for your week? What light can you shed on the "haters"? What IS up with some women? What are you eating?