I'm sitting in a cafe in Copenhagen, alternating between staring off into space, watching the people, and allowing the words in my head to make their way out into the world. It's almost 10  AM here and I've witnessed the first rush of people clear out and a second wave of folks roll in as I sip my triple latte. The first wave of folks came in groups and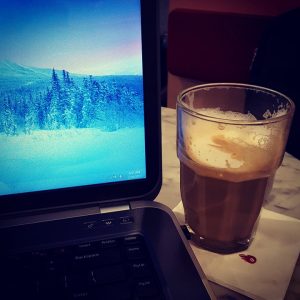 spread out while having lively conversations.
This wave is filled with folks like me, alone with laptops fueling some work time with caffeine laced milky drinks.
Working in a cafe in Copenhagen is different from trying to work at a Starbucks in Dayton or DC or Dallas. I've tried it often as a solution to filling my extroverted well, but I can never really concentrate. In the average Starbucks, people get on phone calls and talk too loudly or assume that you are fair game for conversation, even if you're a stranger. I discovered that I need silence to really write…
Yet, I am on Day 4 of my working at this Baresso, and have broken my writer's block. There seems to be a different etiquette here than in the US. Folks may nod in greeting to a stranger but don't attempt to strike up a conversation. Even those who know someone may greet their friend or colleague and then go off and work at another spot. The vibe seems to be utter respect for each person's relative bubble.
Or maybe, the reason I broke through that writer's block is that we left the month of February behind us…
About the Crow
As I mentioned in January, I got a Animal Card Reading from Sara Magnuson where I was given an animal a month to serve as my guide and theme. This month was again, spot on.
The Crow is the Keeper of the Sacred Law, a balance of Dark and Light with the ability to traverse between the worlds of the Living and the dead, they honor family groups (and even have funerals for each other), and are also considered a bit of a Trickster. The underlying message that Sara got was that it would be the month where I came out of my hibernation and firmed up my own boundaries, determining what was right and wrong for me. An opportunity to shore up my edges.
"Boundaries help us to distinguish our property so that we can take care of it. They help us to "guard our heart with all diligence." We need to keep things that will nurture us inside our fences and keep things that will harm us outside."
–Henry Cloud
Back to back trips to John's mothers and my father's definitely helped me shore up my edges and get crystal clear about needs, boundaries, and how to keep my sacred truths. I was able to be present for all aspects of family: as a daughter, a sister, and an in-law and how those roles are balanced in the truth of what is necessary to nurture and nourish the family that John an I have created.
When you're in a creative dry spell, it's sometimes easier to take a step back and look at the body of work you've created, how you desire to add to or round out your body of work, and also examine what works for you…and more importantly, what doesn't really work for you. This also ties to those sacred boundaries and the space between worlds of who I used to be as a writer, who I'm becoming, and who I desire to be.
Oh, Mr. Crow, you Trickster. Well done.
What I'm Reading
I read twelve books and finally shelved one  of my morning books – Henri Nouwen's Sabbatical Journey.  There weren't any huge "standouts" as far as books I wanted to recommend to EVERYONE, but I enjoyed everything I read for a variety of different reasons.  Cozy mysteries are a great thing to read when life is stressful…and the lovely Alexandra Stoddard's Living a Beautiful Life, something I've read before, spoke to me in new ways. I needed that quiet grace.
Turning the Microscope on Myself
As I mentioned earlier, this year, I am determined to do at least one extreme act of the self-care each month. I can't make an impact in the world or with my work if I turn a blind eye to my own life.
My intention for February was to get back into an exercise routine of some sort. The only way I can be honest about it was that I utterly failed. I managed the intention well during the early part of the month, but the travel through me. I had planned for ending the month of February traveling here, but those trips to Chicago and Dallas added eight days of actual travel to the middle of the month plus the time and energy of preparing for and recovering from those trips: packing, laundry, mail holds, etc.
I love to travel, truly, but it isn't as glamorous as it seems from the outside. An immense amount of energy – physical, psychological, and emotional energy goes into any trip, especially trips as emotionally charged as those to visit family.
In addition to the aforementioned focus on movement, which was about the creation of a new habit…I also had on my list to get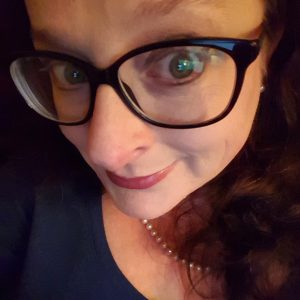 myself to the eye doctor. Wearing contacts means I should go annually, but it's been two years since I've been.
I've worn glasses since the 8th grade  and contacts since 10th grade. In all honesty, my prescription hasn't changed since I was in my twenties….well, until my recent need for reading glasses has begun to make itself known. I've had "readers" for a couple of years that I toss on with my contacts, but my glasses?
Lord, I've had those things since 2008.
It was time to invest in a new pair and while I was making the investment, it was time to take the plunge into the world of Progressives. It was also the time to buy something more fashionable than wire rimmed small spectacles.
I'm still not sure about the "look" of these, but I do love them for the ability to SEE everything so well.
I also made the switch the daily disposable contacts. I wear my glasses more in the winter than I do my contacts, but this gives me the ability to skip all the solutions and cases and such when I do wear them. Plus, FRESH LENSES every time!  I love them.
And, I can't forget about taking the time to get a facial when I was in Texas.
Just like needing reading glasses, my skin needs a different approach as I  age.  I needed that professional evaluation of my skin, and sure enough, she chose different items than I would have. I see AGE SPOTS and she saw that I needed to be better hydrated, which would reduce the appearance of fine lines and wrinkles.She suggested I begin a double cleanse process to feed my skin, including an oil based wash, which I purchased before I left.
She also left me with a list of items to begin transitioning to – a wash for skin refinement, a stronger moisturizer, and a BB Oil instead of a regular facial oil. I'll need to work the other new items in my budget…and as I use up what I already have.
I do need to take better care of my skin. It's so easy to skip taking make-up off at night or skipping the wash/ moisturize cycle on the days I don't wear make-up. And, it reminded me how much I miss the Ultraluxe line of skincare.
Being on travel, I haven't yet decided what my ACT of CARE for March is going to be. I have some follow-ups from previous months, but I do have some ideas.
When It Comes to My Creative Life
I made the decision to join InCoWriMo and while I didn't write a letter every single day – especially when I was in Dallas – I did write extra letters and cards to equal 28 pieces of correspondence in February.
I had also planned to get ahead in my writing for work, but I basically just kept up with my bi-weekly deadline of a blog post and newsletter. I am feeling challenged by stepping IN and OUT of a "coaching voice" and then trying to get back to a different style of writing.
I haven't gotten back to either book project yet…and I hope to be a little more devoted to that process this next month. Oh, and I'd like to go through the submissions for The Mother Book before March 15th.
Time to head out of the coffee shop and take a walk.
March 1st is considered to be the first day of spring in Denmark…when I leave here to head back home on the 9th, I'll be taking that with me.